Editorial
Babu Owino lost his gun and security after he was arrested over the shooting of a club disc jockey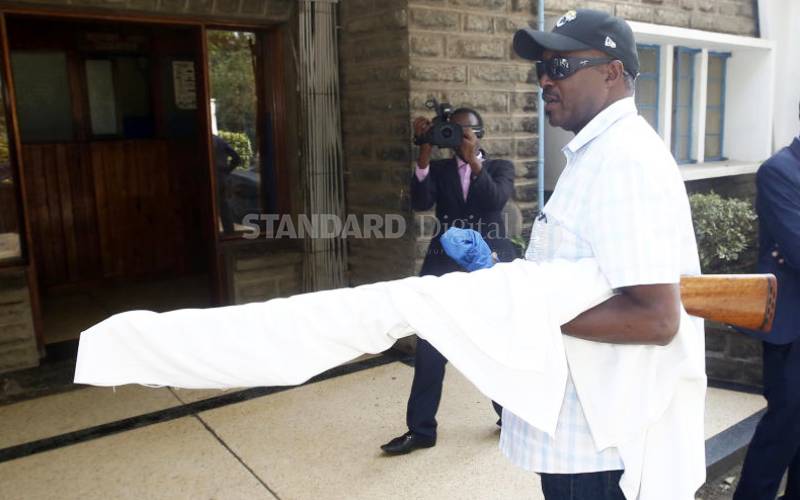 Bahati MP Kimani Ngunjiri (pictured) surrendered his two guns to the DCI in Nakuru yesterday even as his security was withdrawn. For the controversial Jubilee MP with a past run-in with the law, this was long-coming. He has been outspoken about Jubilee party politics, and his recent outburst against President Uhuru Kenyatta's alleged meeting with Nakuru leaders stirred a lot of controversy. We cannot begrudge the National Police Service the decision to take guns away from misbehaving VIPs. It is the right thing to do and goes a long way towards curbing impunity and the risk of rogue VIPs harming unarmed citizens.
SEE ALSO: Uhuru had every reason to kick out party rebels
Mr Ngunjuri joins the growing list of VIPs who have lost their guns and tax-funded security over law-breaking allegations. Embakasi East MP Babu Owino lost his gun and security after he was arrested over the shooting of a club disc jockey. Malindi MP Aisha Jumwa, Nairobi Governor Mike Sonko and his Kiambu counterpart Ferdinand Waititu have had their security withdrawn because they are facing police probes in abuse of office and corruption charges. By virtue of their positions, the MPs and governors have a right to tax-funded security. It should not be seen as a favour from the Executive to the Legislature. Neither should the VIPs view it as a right without any responsibility. Offering VIP protection is essentially protecting the people's verdict. That overrides a lot of other considerations for giving these leaders round-the-clock armed protection. It helps to ring-fence democracy by protecting the choice of the majority. In truth, it is less costly than taking the electorate back to an election as a result of a security lapse that leads to death. But it is a privilege, which means police authorities can withdraw a gun or armed security offered to anyone at any time. And the VIPs are no exception. That is why they need to, as IG Hillary Mutyambai put it, "reciprocate by being law-abiding citizens". What we do not countenance is what would seem to be a partisan, calculated attempt to deny certain factions of the political class their right to tax-funded security. First, the police do not serve at the whims of the political class. Two, unless actual shooting and breach of gun laws is evident, the doctrine of the presumption of innocence until proven guilty should apply.
SEE ALSO: Curse of parties that preach democracy but practise none
In other words, VIP security, though a privilege, should not be used to settle narrow political scores. We run the danger of it being abused, even as it seeks to stop trigger-happy VIPs and fight impunity.