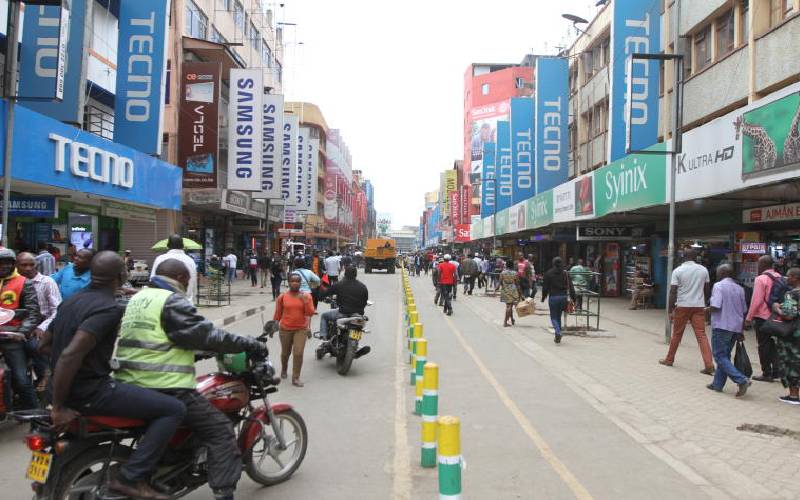 Nairobi
About half of Kenyans polled by market research company found the going tough
For many Kenyans, 2019 was a year of broken dreams, a new survey shows. Close to half of Kenyans polled (48 per cent) found the going tough in 2019, while the few that had amassed some fortunes in 2018 saw their optimism deflated by a high cost of living, massive unemployment and corruption. A paltry 17 per cent described it as a good year, a significant decline compared to 43 per cent that gave the same response in 2018. According to an end-of-the-year poll done by Trends and Insights Africa (TIFA), a market research company, more than a third of the respondents couldn't tell whether it was a good or bad year.
SEE ALSO: Kirinyaga County officials probed over graft
The survey results released yesterday also looked at the prospects of the Building Bridges Initiative report.
Double-edged sword
"The findings of this study point to a double-edged sword as the proportion of those who feel 2019 was a bad year declined (in comparison to a similar study in 2018) whilst those who say it was a good year declined from 43 per cent to 17 per cent. "The proportion of those who are lukewarm about the year increased from one per cent to 35 per cent between 2018 and 2019," read part of the report. Close to 40 per cent cited the high cost of living as their most significant challenge in 2019, while another 18 per cent cited unemployment in a year that saw a lot of companies fire workers even as others issued profit warnings.
SEE ALSO: Seven Kebs officials charged with Sh12.79 million fraud
Downed tools
A lot of Kenyans also said they had been affected by doctors' strikes after health providers downed their tools demanding better employment terms. Delivery of critical healthcare services was affected as a result. Poverty, lack of access to credit or poor credit rating and poor healthcare each had a weight of eight per cent. Official data shows that four out of 10 households live on less than Sh200 in a day, meaning they struggle to put food on the table. Kenyans, especially those in the informal sector, have struggled to access cheap credit with those who have not been able to pay their loans blacklisted at the credit reference bureaus.
SEE ALSO: Netanyahu's 'unprecedented' corruption trial to open
Political tension had a weight of five per cent, despite the truce between President Uhuru Kenyatta and his 2017 rival, ODM leader Raila Odinga. The high cost of living and unemployment are consistently ranked as the top problems facing Kenyans in all national surveys conducted by TIFA. "These sentiments are supported by macro-economic indicators. For instance, the annual inflation rate rose from 3.38 per cent in September 2019 to 5.56 per cent in November 2019. As a result, Kenyans are feeling the pinch as they spend more to buy unga," said Maggie Ireri, director of TIFA Research. Most Kenyans also continued to fall short on the attainment of their goals, with six out of 10 saying they did not attain their goals for 2019. Only four out of 10 said they had achieved the goals they had set for 2019. The pollsters noted that the reason most Kenyans fail to achieve their goals, especially those which require time, is due to failure to plan.
SEE ALSO: Anti-Corruption Court bars Obado and family from dealing with Sh34m Nairobi house
"Kenyans aspire to invest in big-time items but do not have a savings plan. It would be more prudent to set realistic savings goals in order to achieve those that require financing," said Ms Ireri. The survey also showed that youth between ages 18-24 are more actualised in their goals compared to older people who are 45 years and above. Also, more than half of the people from North Eastern said they had achieved their goals compared to less than a third from the Coast. A third of Kenyans polled had set their eyes on starting a business this year, but only 11 per cent were able to achieve their goal. Even worse is for 20 per cent who wanted to get a new job but fell short in a big way. Only 11 per cent of those who wanted to get a job were able to do so.
SEE ALSO: EACC goes after Bungoma MCAs in 600 jerrycans scam
Some 18 per cent of Kenyans wanted to either build or relocate their homes, but only four per cent managed to do that. Another 16 per cent wanted to pursue higher education, but just seven per cent went ahead and joined college. The goals that Kenyans set for themselves in 2019 are nearly the same ones for next year. Thirty-three per cent want to start a business, 17 per cent want to get a job while those who want to own a house and pursue higher education are 13 per cent. Another 11 per cent would like to pay school fees for their children while another seven per cent want to expand their businesses.