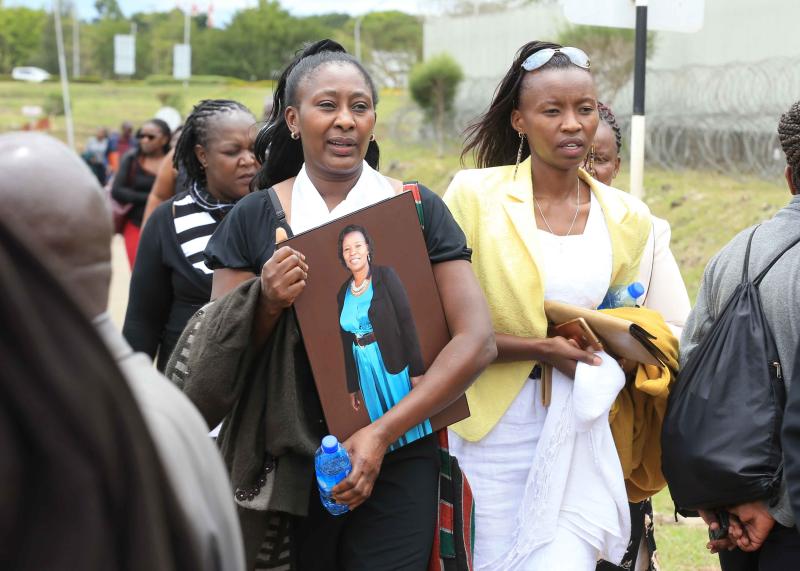 Nairobi
Ethiopian authorities say the remains of four Kenyans were buried or cremated in the capital.
The remains of 28 Kenyans who died in the ill-fated Ethiopian Airlines Flight 302 were yesterday delivered to their families. Officials from the airline, last Friday, invited two representatives from each family to Addis Ababa where they spent the weekend before making the return journey with their relatives' caskets. Government officials, including Transport Cabinet Secretary James Macharia and his Foreign Affairs counterpart Monica Juma, attended a funeral service held at the presidential pavilion of the Jomo Kenyatta International Airport yesterday. Speaking after the modest but sombre service, Ms Juma said bringing the remains to the victims' families was important to help them find closure.
Body fragments
It was, however, clear that there were no bodies to be viewed. Earlier reports had indicated that the Boeing 737 Max had crashed with so much force that only body fragments of the 157 people aboard were recovered from the crash site. Ethiopian officials said that some remains had been cremated or buried in the country, according to the wishes of the respective families.
SEE ALSO: Ethiopian Airlines sends employees on mandatory leave
The remains that arrived yesterday, which have taken months to identify through DNA matching, were driven in hearses to various morgues around the city to allow time for burial arrangements. For many, it was a painful moment reliving the events that followed the accident. Some families had already conducted final rites, including burial Mass, but without the bodies. Among those present were the relatives of Florence Wangari, a nun, who had held a ceremony to mark her death. A family member said her scheduled burial would only help to awaken their feeling of loss. Dan Muturi, Wangari's elder brother, said the family had filed two suits in the United States and they were hopeful the compensation would be paid soon. The airline has already given Sh5 million to several families, including the Muturis, as part-payment. A further Sh5 million payment is outstanding. Richmond Mureithi, who has been coordinating the families' activities, told
The Standard
that Boeing had offered Sh14 million ($140,000) for every victim in payment that is awaiting completion of paperwork.
SEE ALSO: PSV operators to be trained in coronavirus prevention
The offer, which has been interpreted as a donation to appease the victims' families, does not, however, shield the aircraft manufacturer from multiple legal suits that have been filed in Chicago. "Those who do not feel satisfied with the 'gift' have decided to sue for compensation," said Mr Mureithi, who also lost a relative. Ethiopian Airlines' insurer is paying the Sh10 million ($100,000), a settlement that is being coordinated by a Nairobi-based law firm.
Crash money
But to receive the money, relatives have to provide proof that they were dependent on the crash victim. This explains, in part, why some families are yet to receive a cent.