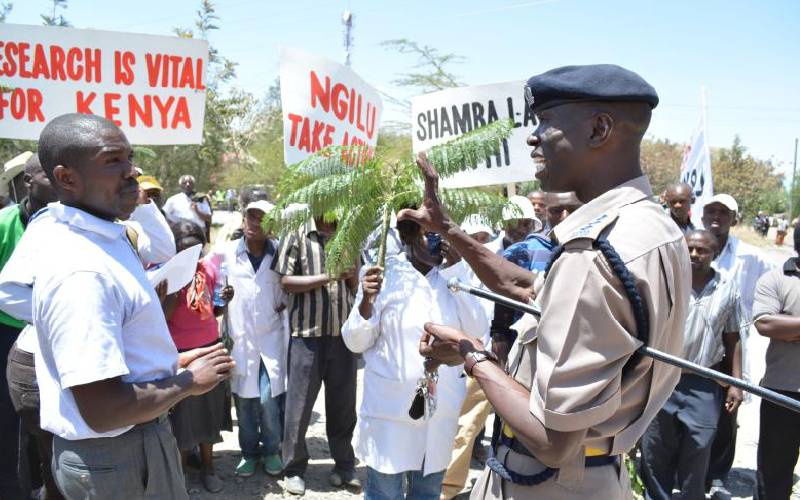 Rift Valley
Agency says title deeds for the parcels of land were revoked through a Kenya Gazette notice in March this year.
The anti-graft agency is looking for a foreign investor alleged to have illegally acquired 400 acres of Government land in Naivasha. Ethics and Anti-Corruption Commission (EACC) South Rift director Hassan Khalid said the business man is being investigated in connection with the irregular acquisition of the land that belongs to the Kenya Agricultural and Livestock Research Organisation (Kalro). Mr Khalid said the foreigner was summoned to appear before the EACC two weeks ago, but he failed to turn up. "He seems to be avoiding detectives by saying he has other businesses outside the country," said Khalid.
SEE ALSO: Gangs rob marooned properties near Lake Naivasha
According to the anti-graft body, the investor irregularly acquired the land in 1997 and then processed the title deed before sub-dividing the property. "Out of the six parcels of land, two belong to the investor while four others were sold to unsuspecting flower farm investors," said the director.
Flower production
The land, which is valued at Sh1.2 billion, is currently under cut-flower production for the export market. Khalid stated that the title deeds for the individual parcels of land were revoked by the Ministry of Lands, the National Land Commission (NLC) and the EACC through a Kenya Gazette notice in March this year.
SEE ALSO: Kenya mulls GMO cassava farming
"This is government land that shall be handed back to the agricultural research organisation. We shall take action against the investor and four others." There have been several cases of individuals grabbing government land in Nakuru. County NLC chairman Frank Kimbelekenya said the most affected are parcels that were meant for research institutions and the Agricultural Development Corporation (ADC). In the 1980s, the ADC owned about one million acres of land but that has gradually reduced to only about 20,000 acres, according to the land body. "Examples of parcels that have been encroached include Kalro land in Naivasha, ADC farm in Lanet, Eburu Forest and the entire Mau complex," said Mr Kimbelekenya.
SEE ALSO: Conservationist fears for life after group invades property
Meanwhile, the EACC has acquired 768.8 hectares of land in Naivasha belonging to Kalro through the alternative dispute resolution process.
Dispute resolution
The land that is valued at Sh5.7 billion was recovered on August 1. A 0.27-hectare piece of land belonging to a deputy county commissioner was also handed over to the commission. The land located in Milimani estate in Nakuru town is valued at Sh33.5 million. The two parcels of land will be handed over to the Ministry of Land for public use.