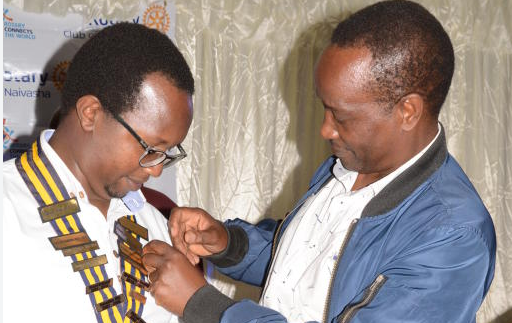 NAIVASHA, KENYA
: Rotary International has exuded confidence that the fight against Polio by various stakeholders in the country will be won. According to the organisation that is involved in humanitarian services, major strides has been made in the region in the fight against Polio. This emerged during a ceremony to install Rotary and Rotaract presidents for the Naivasha branch, on Tuesday. The remarks are in the wake of a planned polio vaccination exercise by the Ministry of Health in some counties targeting thousands of children.
SEE ALSO: Experts probe alarming rise of water levels in major lakes
According to the new Naivasha Rotary President Billy Mungai Muturi, joint efforts between the organisation and the State has led to the current gains. Mungai said that Rotary was at the forefront of making sure that polio was eradicated in the country in years to come. "We are committed to working with the State and other partners to make sure that polio is fully eradicated though immunisation," he said. The President at the same time said they are working with colleagues from Arizona in the US to provide mobility equipments to tens of people who were physically challenged. Mungai added that other areas that the organisation was keen to improve on was on water and sanitation, child-mother maternal health, education and economic empowerment.
SEE ALSO: Spare no effort to help the most desperate among us
He said that Rotary which currently is in over 200 countries was keen on improving the livelihoods of millions of people who are living in abject poverty. "We have several projects where we are drilling boreholes in various parts of Naivasha so that we can assist the less fortunate members of the society," he said. On her part, the new president of Rotaract Jane Mugo said that they had held several medical camps in Naivasha adding that this programme would continue. She added that plans were underway to rehabilitate the public park in Naivasha town by providing various services including sanitation.