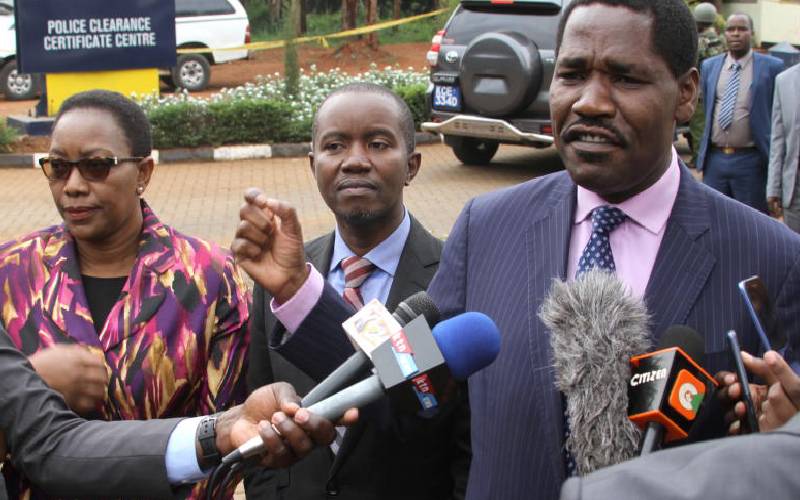 A major split is emerging in the Cabinet amid reports that President Uhuru Kenyatta ordered the police to probe claims of a plot to assassinate his deputy, William Ruto. Reports indicate that the order came after the Deputy President told the President that he had been informed that some Cabinet secretaries, principal secretaries and parastatal bosses from Mt Kenya region had met to plot his political downfall and assassination. Following the claims, the President is said to have ordered the DP's security scaled up. The DP has since received more security. The President is said to have summoned a meeting at State House on Saturday, which was attended by Interior Cabinet Secretary Fred Matiang'i, Inspector General of Police Hillary Mutyambai, Interior Principal Secretary Karanja Kibicho, Director of Criminal Investigations George Kinoti and National Intelligence Service Director General Philip Kameru.
State House
SEE ALSO: MCAs want State House Comptroller probed
According to highly placed sources, the President informed the meeting that the DP had told him that some CSs, PSs and parastatal bosses from Mt Kenya had met at Hotel La Mada along Thika Road to plot against him. He then ordered that all those mentioned as part of the La Mada Hotel meeting be summoned to the Directorate of Criminal Investigations (DCI) to assist in investigations. More than 10 Government officials presented themselves before the DCI. But they refused to be questioned until the Deputy President had recorded a statement to back his complaint. Other sources revealed that the DP refused to record a statement on the matter, making it difficult for police to proceed with investigations. CSs Peter Munya (Trade), Joseph Mucheru (ICT), and Sicily Kariuki (Health), at least six PSs, and heads of parastatals confirmed that they were summoned following a letter circulating on social media detailing a 'suspicious' meeting at Hotel La Mada.
SEE ALSO: Consumers to pay more for goods as taxes take effect
According to the letter whose author and authenticity could not be immediately established, part of the meeting's agenda was said to be an offensive against the DP. In the letter addressed to "Your Excellency", the author or authors sought permission to be exempted from attendance as they did not want to be part of the political conspiracy. Apart from the three, CS James Macharia is also listed in the letter as among those in attendance. The DCI is yet to determine the authenticity of the letter. Yesterday, the leaders arrived at DCI headquarters shortly before 9am as ordered before they walked out an hour later.
SEE ALSO: TSC, union can resolve sticky issues amicably
Addressing the media, they said that upon honouring the summons, they were informed that Ruto had made a phone call alleging that they, among other senior Government officials, were planning to assassinate him. They, however, said that they were unable to record statements at the DCI since there was no written complaint besides the said phone call. "We have gone through the allegations and there is no written allegation recorded in the OB. What they have is a purported letter that has been circulating in the social media. We told them we could not respond to that kind of a letter," said Mr Munya. He continued: "They have confirmed to us that the DP made a call and complained that some Cabinet secretaries and some other Government officers have been meeting at La Mada and gave us a specific date of May 14, and that (in the) meeting there were plans that were being hatched to kill him." The Trade CS described the claims as serious.
SEE ALSO: Provide more details on Covid pandemic
"These are very serious allegations especially coming from a person of the stature of a DP occupying an extremely powerful and important office in the land. I would expect somebody in that office to do a proper investigation before making unsubstantiated and wild allegations of that nature," he said. He ruled out recording a statement on the matter until the proper procedure was followed. "We have not been able to record any statement because the standard procedure is that if somebody makes an allegation of that nature, that person is required by law to record a statement. The DP has not recorded any statement," said Munya. According to Munya, the DCI agreed with the leaders' concerns. "We came to a conclusion and agreement with them that we can't record any statement at this stage until the complainant makes a substantive complaint in writing against which then we can be able to respond," he said.
Denied claims