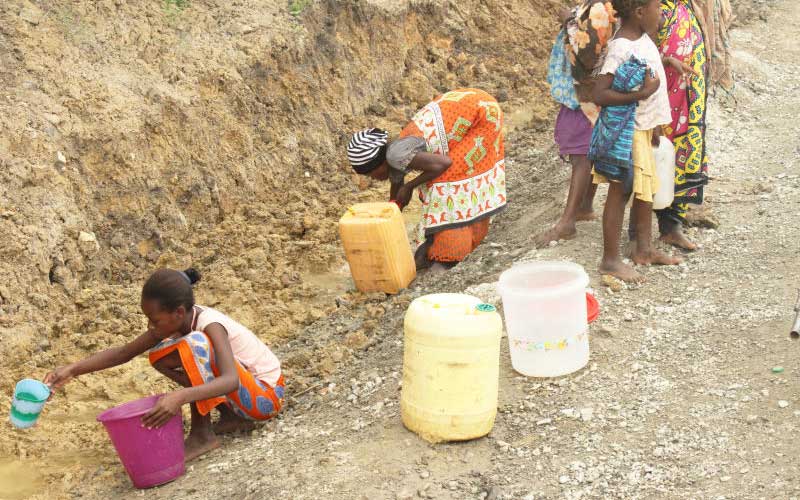 Coast
Lunga Lunga residents in Kwale struggle and cling hope as water crisis bites
Nzanze Murinzi emerges from a cloud of dust with her six-month-old daughter tightly strapped on her back and a 20-litre jerrican of water balanced on her head. The sun is almost overhead in Mwanya wa Bugu village. Ms Murinzi is among dozens of women and children returning home after a painful but fruitful search for water. "I left the house at dawn and trekked 15km in search of water," said a tired Murinzi accompanied by her son, 14, who is carrying a five-litre jerrican. The mother of six left her house some minutes past 5am for water in Badawache and returned home at midday. She makes the trip twice a day. Some are forced to go to neighbouring Tanzania in search of water.
SEE ALSO: Two minors, terror suspect killed in Kwale police raid
"We have to walk together because of the wild animals. We sometimes search for water the whole day," said Mwanamvua Mohamed from Kilima Ngodo village. With the ongoing drought, water is scarce and competition between humans and wild animals for the commodity is stiff. All the 12 seasonal rivers and a small dam which serve over 3,000 families in the five remote villages in Lunga Lunga Constituency, have dried up. The county's water bowsers from Kwale, over 60km away, supply Mwena and Kilimagodo health centres with the commodity once a week to ensure that crucial services such as delivery do not grind to a halt. Unsurprisingly, most of women we spoke to complained of having pains in their backs and legs.
SEE ALSO: High Court overturns Kadhi's court ruling on suit property
To alleviate perennial water shortage, Governor Salim Mvurya's administration plans to build several dams to harvest water. The government is currently expanding a dam in Mwakalanga village. "We are lucky that Mwakalanga Dam which is currently under expansion has water. But in other villages there are reports of high incidence of diarrhoea because of the use of poor quality water," said Mwakalanga resident Leah Mugala.