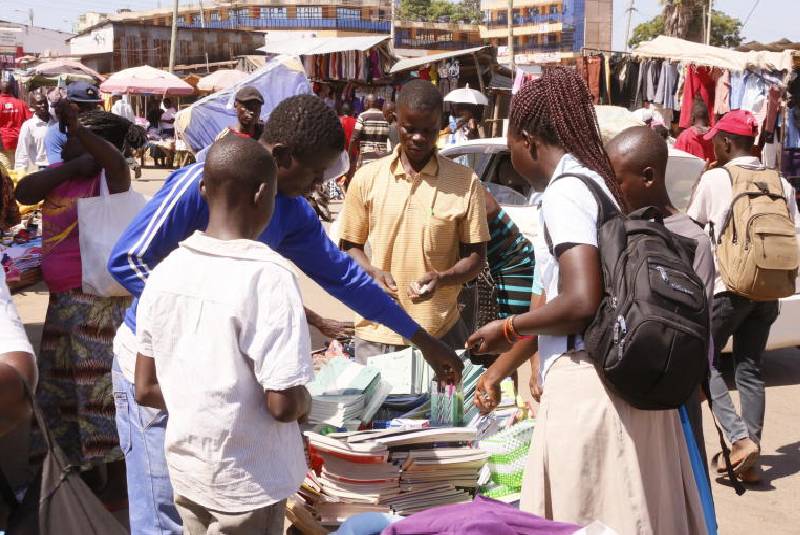 The Government will roll out the Competency Based Curriculum (CBC) in all schools starting today. The CBC is to be implemented in pre-primary One and pre-primary Two (PP1 and 2) and Grades 1, 2 and 3. This means learners who were in Grade Three last year and were part of the national pilot programme will revert to the 8-4-4 system when they join Standard Four today. This is because the new system will not be implemented in Standard Four onward.
SEE ALSO: Publishers have two weeks to re-submit CBC course materials
Education Cabinet Secretary Amina Mohamed yesterday said the rollout of CBC follows a pilot in the same grades last year. "The Government has assembled a critical team of staff who will steer implementation of the CBC in Early Years Education (EYE)," Amina said when she addressed senior education officials at the Kenya Institute of Curriculum Development (KICD) yesterday.
Ministry officials
Those in attendance included top Education ministry officials, among them county directors of education and quality assurance officers. The CS directed all directorates and semi-autonomous Government agencies in her ministry to carry out their mandate expeditiously to ensure that the implementation of CBC goes on smoothly. "I also expect each and every one of you to gear up for an intensive year where excuses and lapses in putting together basic instruments to drive this process shall not be tolerated," Amina said.
SEE ALSO: Train teachers to produce quality e-learning content
Field officers are expected to guide the implementation of CBC by making sure designs to guide teachers to effectively deliver the curriculum are available. "In 2018, some 21,627 public primary schools received four volumes of the CBC curriculum. It is important for the field officers to alert the ministry and KICD if there is any school, within their jurisdictions, that does not have curriculum designs," Amina said.
Lesson timetables
A circular on the implementation of CBC 2019 shows how lesson timetables will be prepared. It shows that each lesson will last 30 minutes. Further, there shall be five lessons a day in pre-primary and seven lessons in lower primary. "I confirm that all public primary schools have, and are using, CBC curriculum designs for pre-primary 1 and 2 and Grades 1, 2 and 3 as developed by KICD," Amina said. She added that her ministry and KICD would ensure that course books and teachers' guides for implementing CBC were available in schools on time. She directed field officers to ensure that only KICD-approved books were used and to regularly update the Directorate of Primary Education and KICD on progress made in distribution of books.
SEE ALSO: Union sets fresh conditions for new school term to start
"Jointly, with KICD, Teachers Service Commission, Kenya National Examinations Council and Kenya Education Management Institute, field officers should organise training sessions for teachers, curriculum support officers (CSOs), sub-county directors of education (SCDEs) and quality assurance and standards officers (QASOs)," said the CS. The officers will also be required to support schools to develop and implement strategies to enhance awareness among parents on their roles in the implementation of CBC. "The field officers should also ensure CSOs, SCDEs and QASOs continuously and consistently monitor, supervise and provide professional support to head teachers and teachers in the CBC delivery," the CS said. Field officers are also required to give regular reports on delivery, school environment and infrastructure. The reports should be submitted to the county director of education's office and consequently forwarded to the ministry's directorate of quality assurance and standards and KICD. Amina asked all stakeholders to ensure the successful implementation of the new education system. "I can confirm to you President Uhuru Kenyatta and all relevant Government agencies will accord us the support necessary to implement this programme. I therefore wish to reiterate that failure is not an option." She said she would be part of the team that would monitor the exercise to ensure its success. "I am directing the Director of Quality Assurance and Standards to step up their game this year. They must visit every school to ensure CBC is implemented to the letter and that no school charges any levies contrary to the policy of free primary education and free day secondary education," Amina said.
Communication plan
She said a special desk and call centre would be established at KICD to respond to inquiries. She said her ministry had developed a communication plan to provide regular updates on progress. The CS also said she was keen to actualise the Government's policy of 100 per cent transition from primary to secondary school. "The President has mandated us to work with all officials, particularly chiefs, to ensure all candidates who sat KCPE last year have joined secondary schools," Amina said.