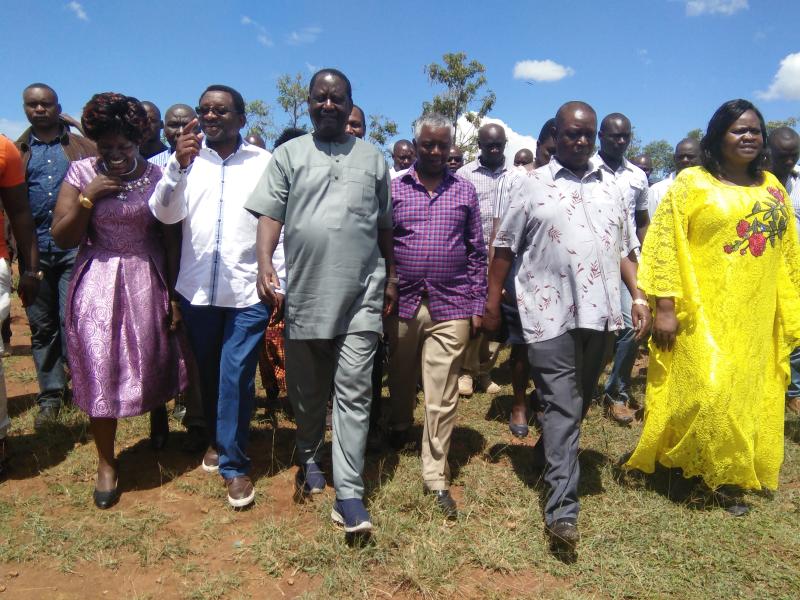 Opposition leader Raila Odinga's March 9 handshake with President Uhuru Kenyatta appear to have given him a new lease of life, a year after he lost his fourth bid for the presidency. At a time his critics thought he was headed for political oblivion, Raila has made a major comeback and is once again the focus of Kenya's politics. Ugunja MP and ODM Director of Political Affairs Opiyo Wandayi describes Raila as an institution. "Those who have wished him away in the past have eventually been disappointed. His influence will continue to be felt in Kenyan politics for a long time to come," he said. The just-ended successful tour of Nyanza by President Uhuru Kenyatta has catapulted Raila back into the political limelight. Political analysts described him as a strategist who simply cannot be written off in the country's politics.
SEE ALSO: ODM digs in amid Jubilee's implosion
Pundit Mark Bichachi said Raila has "times without number" successfully hoodwinked the entire nation and was definitely going to pull a surprise again. He said this time he has thrown even those on the Jubilee side off track and they were struggling to figure him out. "Worse, they do not know what Uhuru has up his sleeves either. And to compound matters, he has promised to surprise them," said Bichachi. He said for the first time in his political history, Raila was staying true to an agreement. "I think it is the longest time has stuck to terms of an accord without betraying it," he said, adding that he has always been a thorn in such agreements... One wonders what he was promised," he said. Bichachi said Raila's strong reemergence onto the political sphere was a calculated move with strong odds of totally shifting the 2022 political game plan.
Man to watch
SEE ALSO: Regrets, hopes and lessons for NASA from Chakwera win
He said the unfolding scenario which follows the handshake, and which has now roped in Deputy President William Ruto, made Raila the man to watch. The pundit added that there were chances Raila, Uhuru and Ruto could pull a surprise joint coalition that would come in any combination. Maseno University political science lecturer and political commentator Tom Mboya said Raila was not re-branding per se. He said the former Prime Minister was a seasoned politician with a lot of fast ones in his bag of surprises. His newfound dalliance with the government, he said, had more to do with him being an astute political leader and a statesman than with power struggle. "The country was on the brink of socio-political and economic collapse and the country was unstable. The handshake effectively restored normalcy, saving the country from what would have been the birth of a disaster and great economic depression," he said. He said political turmoil exposes and softens the country's underbelly, making it vulnerable and easy for enemies of progress like Al Shabab militants to carry out attacks. It also makes it easy for the country to degenerate into economic ruin. He said it was the intentions of the handshake that had underpinned his dalliance with President Uhuru, much as it may also be a political strategy. Mboya said Raila as a politician was a strategist and had several cards hidden from his opponents. Former Nyatike MP Omondi Anyanga said Uhuru's visit to Nyanza had a serious political significance. "Seeing Raila, Uhuru and Ruto together is a sign of good things ahead," he said yesterday.