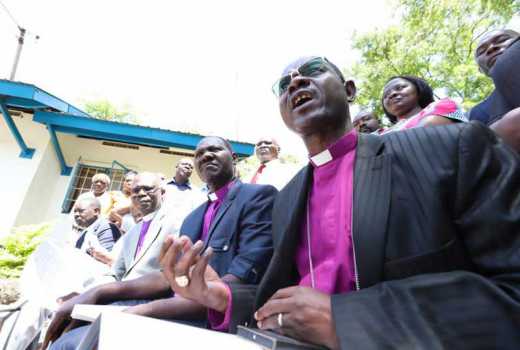 Politics
Church officials break silence, launch scathing attack on Nyanza leaders.
The Anglican Church has launched a scathing attack at politicians in Nyanza, accusing them of lackluster leadership in development. Bishops from the church's three dioceses declared they will no longer keep quiet over politics and development issues in the region. Bishops Mwai Abiero (Maseno South), James Ochiel (Southern Nyanza), Joshua Owiti (Maseno East) and Dr David Kodia (Bondo) said politicians must take responsibility for slow growth in the region. They spoke in Kisumu during the commissioning of Victoria Inter Diocesan Enterprise Investment Company (Vidic) building whose construction will cost Sh1 billion.
SEE ALSO: Kenyan athletes stranded in India arrive home
The 18 storey Vidic Towers will be co-funded, owned and run by the six ACK dioceses in Nyanza. It will house offices and create over 1,000 jobs. The revenue generated from the tower will also be ploughed back to various community development projects. The bishops told all elected political leaders "to wake up" and help improve the economy of the region. In an apparent move to show solidarity with Rev Ochiel, who has been a lone voice in attacking ODM over alleged poor leadership, the clerics accused politicians of not initiating meaningful projects to spur growth.
Misuse of funds
"We want to restate that the ACK is committed to the philosophy of development based on practical entrepreneural engagements to change lives," said Abiero. They said despite billions of shillings allocated to the counties, there was still little to show for it. Instead, what is being seen or reported in the media are billions of shillings allegedly misappropriated by the political elites.
SEE ALSO: How Floyd's killing is reflective of the sad reality in our Kenyan backyard
The clerics declared that they will continue to challenge those in authority to come up with projects that will impact positively in transforming the lives of humanity. "They will have to tell us what they have done to boost agricultural production. What have they done to improve roads, overall health and the environment?" said Owiti. The clerics asked the national government to also state what it was doing to explore Lake Victoria as a resource and to end the recurring border conflicts and harassment of fishermen on the lake. Bishop Owiti said it was wrong for some politician in Nyanza to warn the church against indulging into politics. But ODM Secretary of Political Affairs Opiyo Wandayi said the church leaders were out of touch with the reality as most of them were doing a lot to the people.
SEE ALSO: Twitter disables Trump video tribute to Floyd over copyright complaint
Wandayi said the church had made outrageous remarks inconsistent with their development projects going on at the grassroots.