US pastor denies allegations of coup links as Turkey trial begins
AMERICA
By AFP | Apr 16th 2018 | 2 min read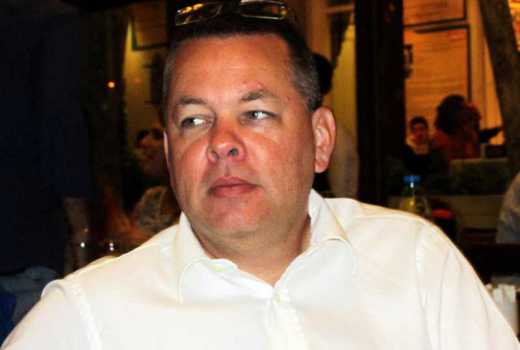 An American Christian pastor who has spent the last one and a half years in jail in Turkey strongly rejected terror-related charges on Monday as his trial got underway, in a case that has raised tensions with Washington.
Andrew Brunson, who ran a protestant church in the western city of Izmir, was detained by Turkish authorities in October 2016. If convicted, he risks up to 35 years in jail.
Brunson, wearing a white shirt and a black suit and speaking in fluent Turkish, was present in court in the town of Aliaga north of Izmir for the hearing, an AFP correspondent said.
In an indication of the importance of the case for Washington, also in court were Sam Brownback, the US ambassador at large for religious freedoms, and Senator Thom Tillis.
"I want the whole truth to be revealed. I reject all the accusations in the indictment. I haven't been involved in any illegal activity," Brunson told the court.
"I haven't done anything against Turkey. On the contrary, I love Turkey. I have been praying for Turkey for 25 years," added Brunson, who moved to the country in 1993 and then opened his Izmir church in 2010.
Numbering just several thousand, the protestant community in overwhelmingly Sunni Muslim Turkey is extremely small, largely comprising converts from Islam, expatriates and refugees.
Representatives repeatedly complain of harassment. The Turkish Association of Protestant Churches said in a report that 2017 was marked by continued hate crimes and physical attacks.
'Insult to my religion'
Turkish prosecutors have charged Brunson with engaging in activities on behalf of the group led by Muslim preacher Fethullah Gulen, who Ankara says is behind the failed 2016 coup, and the Kurdistan Workers' Party (PKK).
Both are banned by Turkey as terror groups. Brunson is also accused of espionage for political or military purposes.
If convicted, he faces two separate terms of 15 years and 20 years in prison, his lawyer Cem Halavurt told AFP.
In his statement to the court, Brunson rejected the accusations of links to Gulen's group, saying: "That would be an insult to my religion. I am a Christian. I would not join an Islamic movement."
He also denied aiding any PKK suspects and dismissed as a "lie" suggestions he had preached in favour of Kurdish independence.
Brunson said he had no foreknowledge of the July 15, 2016 failed coup, saying he returned to Turkey from the United States one week before.
"This is not something a guilty man would do," he added. His wife Norine, who was detained with him and then released in December 2016, was also present in court for the hearing.
Matiba the trail blazer
Fallen hero Kenneth Matiba excelled in business and politics until he threw his weight behind the struggle for the restoration of pluralism