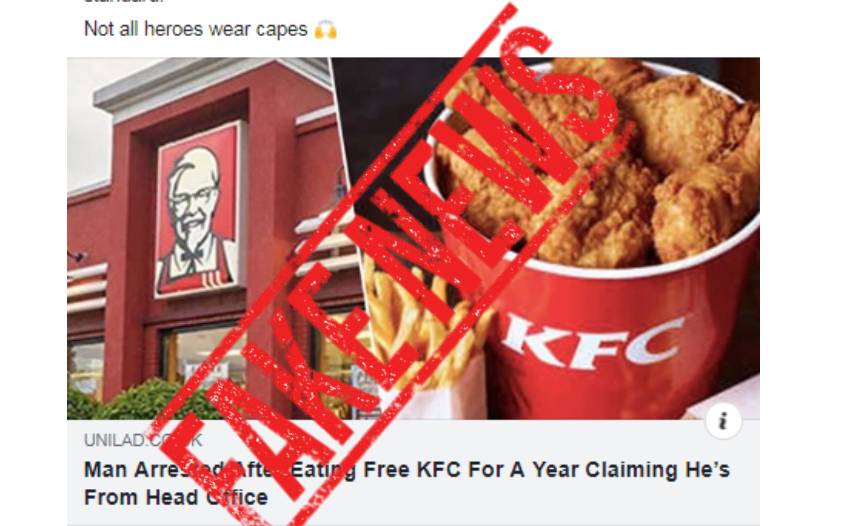 The tale of a South African student who supposedly ate at KFC for free for a year by conning the franchise's employees into believing he was conducting quality assurance tests went viral this week. Social media hailed him a hero and he attracted the interest of international media.
There's just one problem: KFC says the claim is false. The fried chicken chain added that it too would have given the student due respect had the tale been true.
One Facebook post by the British outlet Unilad, which we've archived here, has been shared over 8,600 times and links to an article titled: "Man Arrested After Eating Free KFC For A Year Claiming He's From Head Office".
Numerous articles published online, such as here and here, cited the South African website Xpouzar.com as their source for the story.
Xpouzar claims the smartly-dressed student from the University of KwaZulu-Natal arrived in a limousine and duped Durban staff into thinking he was from the KFC head office.
Read More
The article only cites the journalist by a first name 'Thembi", and confuses the reader by saying he got away with this con for a year in the headline before contradicting that by saying two years in the story below.
Despite the vague details, the 27-year old was hailed as a hero by social media users who questioned why he would be arrested for such a "win".
KFC South Africa joined in on the fun by responding to the claims in a couple of tweets from their verified Twitter account on May 14. Had the story been true, the company would have been party to the criminal proceedings resulting from the man's arrest.
However, the company confirmed that the story was invented.