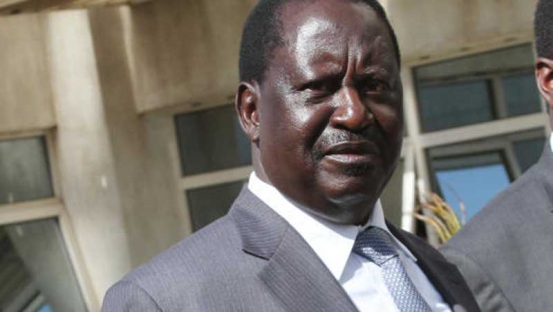 Raila is among a small list of African politicians who have made several attempts and spent many years knocking at the gates of state house.
The nomination of Raila Odinga as National Super Alliance (NASA) candidate for the August presidential elections was hardly the stuff of political surprises. Long seen as first among equals, it was almost inevitable that the opposition alliance would choose the relative certainty of Raila's pedigree, with all its flaws, over gambling on one of his co-principals.
The decision was surely informed, at least in part, by Raila's age; at 72 this is surely his last roll of the electoral dice while his co-principals: Kalonzo Musyoka, 63; Musalia Mudavadi, 56, and Moses Wetangula, 60, probably have a few more years and fights left in them.
After failed attempts in 1997, 2007 and 2013, Raila's fourth stab at the presidency puts him among a small list of African politicians who have made several attempts and spent many years knocking at the gates of state house.
Meet Africa's professional opposition leaders.
Read More
In many parts of the world politicians often have one or two chances to run for president. In Africa, where western-style democracy is fairly recent and incumbency deeply entrenched, it often takes many attempts to dislodge sitting presidents.
A lot of it has to do with the one-party political systems that evolved in the post-independence period and during which opposition parties were banned. In many countries also, leaders came to power via wars or coups and, buttressed by military might, are hard to remove. This is the case in Eritrea, where Isaias Afwerki has been in power since 1991, in Ethiopia where the ruling party has been in power since its revolution the same year, in Uganda where Yoweri Museveni took power after a five-year guerrilla war in 1986, in Zimbabwe with Robert Mugabe since 1980, and in Angola where José Eduardo dos Santos has held fort since 1979.
In fact, out of the 10 longest-reigning non-monarchical leaders in the world, seven are in Africa, including Paul Biya (since 1975) and Teodoro Obiang Nguema Mbasogo (1979). The next 10 on the list also feature many African leaders, some nowhere near leaving power. Even where leaders change, in many cases it is in the form of musical chairs from within the ruling independence party – Tanzania and the Chama Cha Mapinduzi is a good example.
Swiftly arrested
Taking on African leaders is often a full-time job. Sometimes it pays off after several times of asking. This was indeed the case for Muhammadu Buhari, who was elected president of Nigeria in 2015 after three failed attempts – and incredibly, three decades after running the country briefly as a military dictator.
In Ghana, Nana Akufo-Addo ran unsuccessfully as candidate of the opposition New Patriotic Party in 2008 and 2012 before finally winning in 2016.
Others are not so lucky. In Uganda, Kizza Besigye ran against Museveni in 2001, 2006, 2011and 2016 in elections that he claimed, with some credence from independent observer reports, were not entirely free or fair. After the latest loss, and frustrated by previous failed attempts to overturn the election results in the courts, he went ahead to declare himself as 'the people's president', complete with a swearing-in ceremony. He was swiftly arrested and charged with treason.
Besigye is not alone. In Togo, Jean Pierre-Fabre ran as the presidential candidate for the Union of the Forces of Chance (UFC) party in 2010 and lost to President Faure Gnassingbe by a wide margin.
Undeterred, Pierre-Fabre ran again in 2015, this time as the candidate of a new opposition party, the National Alliance for Change, but rejected the official results, which showed a win for Gnassingbe. He proclaimed himself the elected president, alleging massive electoral fraud in favour of the incumbent.
Faced with pressure from supporters to share the spoils, African opposition politicians sometimes give in to the temptation of power sharing deals, often following closely contested elections. Raila is no stranger to this, of course, having accepted the job of prime minister in the coalition government that followed the 2007/8 elections and post-election violence.
A few months later, Morgan Tsvangirai of the Movement for Democratic Change in Zimbabwe forced President Robert Mugabe into what would have been a run-off election. However, under internal and external pressure, and fearing all-out violence, the MDC settled for a power-sharing agreement in which Tsvangirai became prime minister between 2009 and 2013.
While Tsvangirai was criticised by many for the deal (and critics were somewhat vindicated by MDC's lacklustre performance in government), it seems opposition politicians who have paid a highly personal price, such as being assaulted or jailed, are more likely to cut a deal. Tsvangirai had been arrested in October 2000, June 2003, March 2007 and June 2008. Besigye, who by one account has been arrested more times than any living African opposition politician, has said recently he would be open to dialogue with Museveni.
Few opposition politicians in Africa manage to avoid jail. Here Raila, whom the Moi government jailed in the clampdown that followed the failed coup of 1982, has already earned his spurs. Treason is a particular favourite charge, as is rape and other forms of sexual-related smears, as is citizenship.
This is a particular favourite in Southern Africa where arbitrary colonial borders and mass movements of natives, either to find work in mines or to make way for white settler farmers, gave a particular fluidity to ancestry.
In 1996, facing a stiff challenge from Kenneth Kaunda, Zambia's President Frederick Chiluba passed a law requiring both parents of presidential candidates to be Zambian by birth or descent. Thus Kaunda, who was born in northern Zambia to Malawian missionary parents, and did not meet the criteria, suffered a technical knockout. It did not matter than Kaunda, whom Chiluba had defeated in an election only five years earlier, had ruled Zambia for 27 years from independence.
It soon became a popular tool and opposition leader Michael Sata's main tool in the 2011 election against incumbent Rupiah Banda.
In a few cases, however, African opposition politicians are doomed to die trying. That was the case for Étienne Tshisekedi, the veteran Congolese politician who died in February after decades as the country's leading opposition leader.
To understand how long Tshisekedi spent in the trenches, one needs to remember that he was an advisor to Patrice Lumumba and the Mouvement National Congolais before defecting to Albert Kalonji's faction when the province of Kasai attempted to secede – in the early 1960s.
In the decades that followed, Tshisekedi took part in the coup that brought Mobutu Sese Seko to power in 1965 and held several positions in the dictatorship before falling out and, in 1982, forming the Union for Democracy and Social Progress.
Over the next three decades Tshisekedi became the voice of the opposition in Zaire but got side-lined when the political contest took a military form in the mid-90s and brought Laurent Kabila, and later his son Joseph Kabila, to power.
Tshisekedi continued to plod on, turning his opposition to the Kabila governments, especially in recent years when the incumbent appeared reluctant to organise elections that would bring his term of office to an end.
By the time Tshisekedi died on February 1 in Brussels, aged 84, he had spent half his adult life knocking on the door of the presidency. For him it would never open.
After almost four decades of political activism, Raila is no stranger to the corridors of power, or to the up and downs of political competition in Africa. But with time ticking down on his career this is his last chance to either finally become the bride or be written off as a perennial bridesmaid. Whichever way it goes for him in August, he has plenty of company across the continent.