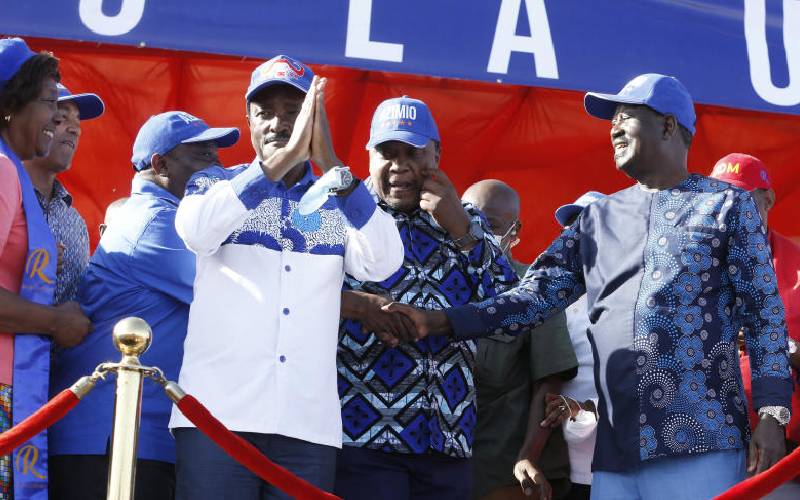 It's now official; Kenya has two horses sprinting to State House. Former Prime Minister Raila Odinga and Deputy President (DP) Dr William Ruto.
They were endorsed by their respective parties on well-attended delegates' conferences.
Each gave his promises, which we can analyse with the objectivity of a Supreme Court judge.
I did not want to read what they said, I listened with the curiosity of a cat. This is what I gleaned from their messages. First, both contenders are sensitive to public opinion.
Even before the delegates' conference, both talked about boda bodas, a sector that was in the news for all the wrong reasons.
The quick about-turn on a crackdown on this sector after some riders were videotaped harassing a female motorist clearly shows this is a constituency you can't ignore.
Even a planned crackdown on matatus was stopped by the government. Who wants to lose such votes?
We have argued repeatedly that the hustler nation is a political force to reckon with. Mr Odinga was smart and said he intervened on behalf of the boda boda riders.
Dr Ruto asked them to go for their motorbikes in police stations. It does not matter who wins in August, you have to face the hustler nation; an informal sector that makes 80 per cent of employees in Kenya, says the Kenya National Bureau of Statistics.
What did each contender say on his big day? The DP focused on creating opportunities for the youth.
His message was economics but spiced up with politics.
He talked of the professionalisation of the Kenya Revenue Authority and rallied against businesses being closed by the tax agency. He knows tax is a sensitive topic.
He talked of ushering in an independent judiciary, jailing the corrupt, reviving agriculture with the availability of seeds, fertiliser, subsidies and markets. He would break monopolies, tame cartels, brokers, and conflicts of interest.
We would stop begging for loans and grow our revenues, stop slavery of debt. He invoked former President Mwai Kibaki by calling for the expansion of taxes to reduce debt.
Curiously, he said saving is the way to go, quoting our savings rate as seven per cent of the gross domestic product. He called for jobs, opportunities and accountable leaders.
He talked of the hustler nation and took credit for Jubilee's achievement. He never used the word dynasty.
The former premier focused on national unity while digging into history for inspiration.
He invoked founding fathers who wanted to end poverty, ignorance and disease. He invoked the 'Handshake' and thanked Uhuru Kenyatta, who was present.
His speech was short and focused on reducing poverty, unemployment and hopelessness.
He called for economic rights so that Kenyans can make ends meet. He said he would deliberately focus on women, and everyone clapped.
To show his focus on the youth, he pledged to get them a stand-alone ministry, offer them tax holidays and give incentives to those who employ them.
He would build on what Jubilee started in health through insurance, preventive health and 'Babacare' - a variation of Obamacare?
He called for the best education for all Kenyans. And to appeal to governors, he said allocation to counties would go up to 35 per cent of the budget from 15 per cent. Echoes of the Building Bridges Initiative (BBI)?
He would revolutionise industrialisation with the Buy Kenya Build Kenya, fight corruption, get a professional civil service with clear paths to upward mobility.
Contrasting with Dr Ruto, he called for regional and continental engagement, pan Africanism; another link to history. Dr Ruto was silent on issues beyond the borders.
Is that a realisation that all politics is local? Like DP Ruto, Mr Odinga touched on debt, calling for renegotiation. He was not as elaborate as the Deputy President.
He also pledged to reduce negative ethnicity so that we all can be brothers. He ended by rejecting the label 'Uhuru project'.
Listening to the two speeches, one can tell Dr Ruto's speechwriter was an economist and Mr Odinga's a political scientist.
Who are they? Both focused on contemporary issues, tried to reach out to Wanjiru. Ruto tried to expose his opponents while Mr Odinga was quiet on that. Statesmanship?
Both seem to have realised that polls will be won on the economic front, which makes this election unique and, I have said before, a clear sign that this country is coming of age. What did they leave out?
I did not hear anyone mention Ukraine and the unintended consequences such as the rise in oil prices. There was no surprise such as laptops for all kids in school.
They told us what they will do but not how they will do it and through who. Mr Kibaki, who they keep invoking, was undone by politics.
Campaign funds
The two must identify people who will help them actualise their dreams lest they turn into nightmares.
Disagreements over coalitions is not a good sign. They did not mention where they will source their campaign funds. Neither did they say anything on who will be their running mate, very unexpected.
The two speeches showed evidence that the two men have worked for the government.
The pace of delivery betrayed their ages and temperaments.
By getting a two-horse race, has our political system been Americanised? I doubt, wait till the cocktail of parties and coalitions go through primaries and final vote.
We may have to go voting with a notebook or a guide on parties.
Could we end up voting for individuals and not parties? How will the winner deal with this cobweb of parties and coalitions? Could too many cooks spoil the political broth?
Did I hear that some Azimio coalition partners did not read what they signed and they are lawyers?
What I have no doubt is that irrespective of who wins, work and taxes will not end and the sun will still risefrom the east.
Finally, irrespective of who wins, I can bet one thing, the hustlers "wataachwa kwa mataa."