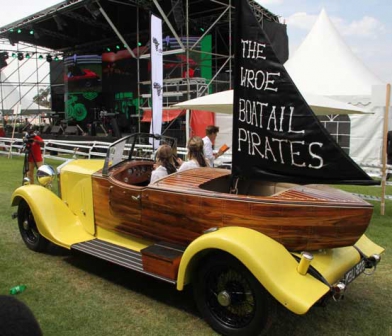 The racecourse off Ngong road is famous for horse races and golfing. But last week, none of these activities took place.
It was the venue of Concours d'Elegance, a showcase of old cars and motor bikes.
The oldest car, a Ford T Model is estimated to be 113 years. It was used by General Jan Smuts in Taita during the World War I.
The cars ranged from well known models to less known models like Railton of 1934, which was number one followed by an MG of 1952.
At number three was a 1934 Rolls Royce Boatail above. The winner in motor cycle category was a 1925 DKW.
The show gave us a glimpse into how far we have come in auto technology, from cranking cars to start to the modern hybrid and electric cars. Perhaps if we know where we came from, we could know better where we are going.
My visit to Concours was a walk down the memory lane, reminding me of my time in a technical school where we used equally old cars in auto engineering classes. By then I was younger, more curious and more innocent. That school is now a national Polytechnic. My dream was to design a car or a jet fighter before graduating from high school. I designed and made a less advanced tool, a G-cramp. That disappointment led me to writing…
Nairobians thronged the Racecourse in large numbers, estimated to be over 11,000 attendants by Bob Dewar, one of the organisers of the event. One could have easily mistaken the race course for a car bazaar.
Nairobians were not deterred by the hot sun and dust. They came in families and loners.
Apart from old cars there was plenty of food on sale and children's entertainment.
The show had another attraction, diversity. Kenyans from all races, tribes, creeds, races and ages came together. They left behind all their differences to admire cars and creativity.
Bigotry and parochialism
Maintaining cars whose manufacturers no longer exist demands lots of ingenuity and creativity.
I do not recall seeing any politician at Concours, but they should have been there to see a semblance of a new Kenya devoid of bigotry and parochialism.
The few other places where Kenyans forget their differences include in athletics, in golf courses and in graveyards.
This visit also brought into fore the other side of Nairobians. They love fun and entertainment. Could it be that they work so hard over the week that they look for any excuse to release steam?
It is also possible, and I fear I may be right that there is a shortage of quality entertainment in Nairobi. The rise in club membership fees is another indicator of the shortage.
That is a window entrepreneurs can exploit. Apart from political rallies where else do Kenyans conglomerate in such large numbers? As late as 5 pm Kenyans were still queuing to get into race course.
The lack of quality entertainment or better recreation should not surprise us. The city of Nairobi and other towns have completely neglected recreation.
Who said we can't have an uhuru park in others parts of the city or in other towns? In most towns, the only opportunities for recreation are taking alcohol or walking around the town.
Some observers suggest that lack of entertainment in most towns is deliberate, to force us to spend money.
You may not spend money in a park, but in a hotel you have to. Why are there are no walkways along Nairobi River like other Rivers in the world?
Virtual recreation, watching sports on TV is not the best recreation. The last time I visited Barcelona, I was told, there are no live TV matches when major teams are playing.
You go to the stadium and pay. How else do the teams sustain themselves? Noted how most stadiums in Europe and elsewhere are usually full. When did you last get into a stadium? The rapid urbanization has been more about bedrooms, getting residential houses. The recreation part has been neglected despite the fact that we spend more time awake than sleeping.
Gyms are not enough. Recreation keeps lots of men and women away from trouble and perhaps makes us more productive at work place.
Rarely do you hear governors or national leaders talking about recreation, the closest is beauty contests. I have always wondered why we do not have inter-county games to dissipate the political negative energy. What about inter- political party games? Imagine a soccer match pitting Jubilee against NASA?
Recreation as an investment has good returns. In Kenya, it has not kept pace with other developments. But as attendance at Concours d'Elegance showed, this might be one sector whose golden age is still far.
We need both private and public sector to keep Kenyans entertained and in high spirits.
The investment in recreation results in healthier bodies and minds, higher productivity and a growing economy.
The writer teaches at University of Nairobi