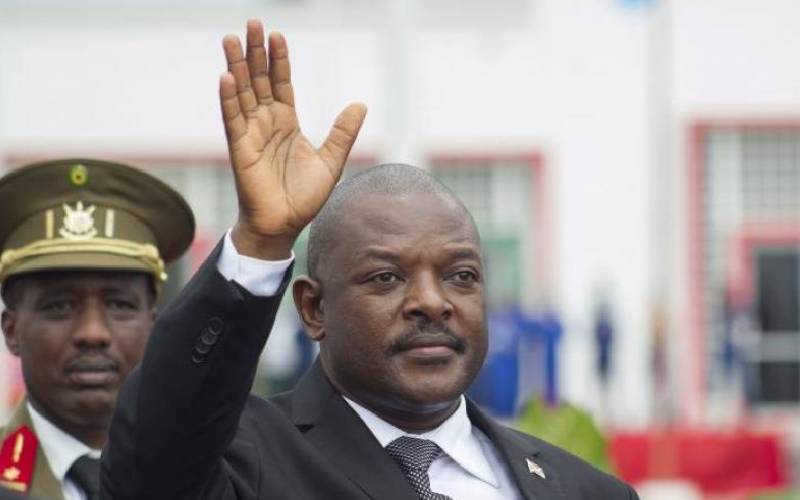 The death of Burundi's outgoing President Pierre Nkurunziza was announced late yesterday, barely months after a parliament, which pledged near total allegiance to him, voted to declare the 56-year-old Supreme Leader.
Unconfirmed reports said he died of heart attack, but observers have linked it to Covid-19 related complications on the backdrop of his and his country's initial denial and eventual ignoring of the ongoing global pandemic.
Just last week, Nkurunziza, whose wife was airlifted to Nairobi in May with what is suspected to be a coronavirus infection, claimed that Burundi was "fortunate" to have been spared the ravages of the virus.
Last evening, President Uhuru Kenyatta condoled with the people of Burundi and the family of Nkurunziza, terming him an outstanding regional counterpart.
"Death has robbed East Africa of a prominent leader whose contribution to the integration and progress of the region shall be sorely missed," President Kenyatta said.
Read More
Nkurunziza's death comes on the heels of elections on May 20 in which his hand-picked successor, Evariste Ndayishimiye, secured a seven-year term as president. The election outcome was confirmed by the constitutional court last Thursday.
Mr Ndayishimiye was due to be sworn in in August.
A communiqué from Burundi's presidency on Tuesday said Nkurunziza was hospitalised over the weekend and that his health "abruptly changed" on Monday.
It said the country would observe seven days of mourning beginning Tuesday.
Weeks before the election, Burundi expelled a World Health Organisation coronavirus team tasked with helping the country to respond to the pandemic.
According to government records, Burundi has 83 confirmed Covid-19 cases - while 55 have recovered and only one death has been recorded.
Massive cover-up
If confirmed, the president's death could be the second in what human rights organisations have termed as a massive cover-up by Nkurunziza and his successor Ndayishimiye's government of the true extent of the disease.
In January, as the world was waking up to the pandemic, Burundi's parliament voted to pay him Sh53 million and provide him with a luxury villa when he leaves office.
Parliament also awarded him a lifetime salary and proposed he be elevated to the title of "supreme leader".
Burundi was plunged into a constitutional crisis in 2015 when Nkurunziza successfully ran for a third term.
The move sparked violent protests by opposition supporters, which morphed into reprisal attacks.
Last year, a United Nations commission accused the government of human rights abuses, including executions, arbitrary arrests, torture and sexual violence.
Burundi called the claims "lies".
As a retired president, he was also entitled to the same benefits as a serving vice-president for seven years after he stood down, and would for the rest of his life get an allowance equal to that of an MP.
Even in death, the image of an all-powerful leader he had cultivated in his 15-year rule still hangs over the Burundian government, which he was to exit in August.
"It is with great sadness that the Government of Burundi announces the untimely death of his Excellency Pierre Nkurunziza at Karusi Hospital as a result of a heart attack," read a dispatch from the Office of the Presidency.
The statement continued to detail his last movements, citing a volleyball match he attended last Saturday.
"It is during the night that he felt a bit unwell and was quickly rushed to Karuzi Hospital. His health improved on Sunday and he was in conversation with those who were around him but to a great surprise, just before midday on Monday, his health drastically changed resulting in a heart attack," the communique read.
Failed resuscitation
Attempts by a multidisciplinary medical team to resuscitate him failed to bring him back.
"Burundi has lost a dignified son of the country who was an example to all of us. The government demands that the people of Burundi remain calm and dedicate their prayers to the departed president," the communiqué read.
It is believed Nkurunziza's wife is still receiving treatment at a private hospital in Kenya while two among the aides who accompanied her to Nairobi are thought to have succumbed to Covid-19 related complications at a separate facility in the city.
Burundi, a small landlocked country, has been characterised by political violence since it gained independence from Belgium in 1962 as the Kingdom of Burundi. The monarchy was, however, overthrown in 1966 and a republic established.