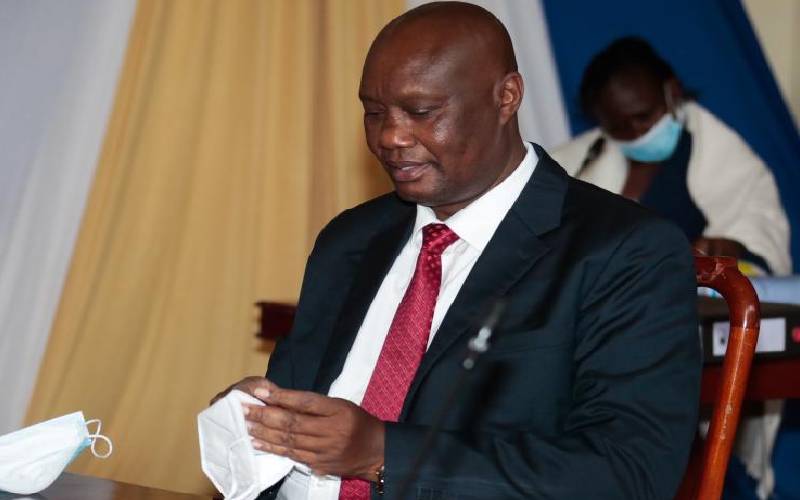 Busia Governor Sospeter Ojaamong
got a reprieve after the High Court temporarily stopped his trial in the Sh8 million waste management graft case.
Justice John Onyiego
suspended the governor's trial
on grounds that he had raised critical questions regarding the integrity of the witnesses, which need to be determined before the case could proceed.
Mr Ojaamong had, through senior counsel James Orengo, filed the application challenging his prosecution. He argued that the prosecution had been intimidating witnesses to fix him and asked the court to declare his case a mistrial.
Mr Orengo submitted that the governor had suffered a mistrial when the prosecution lawyers threatened and intimidated his witness, who is now scared and does not feel comfortable proceeding with his evidence.
Orengo said the governor's other key witnesses in the case had abandoned him at the hour of need and expressed unwillingness to testify due to fear of victimisation from the Directorate of Public Prosecutions given that they are active employees of Busia County Government.
Ojaamong was charged in July 2018 alongside his chief executive officer for finance Bernard Yaite, chief finance officer Leonard Obimbira and head of treasury, accounting Samuel Ombui.
The four were accused of conspiring to defraud the Busia County Government Sh8 million by entering into an agreement for a feasibility study on solid waste management to be done by Madam R Enterprises Limited when the company's services had not been properly secured.
The governor was also accused of abuse of office and engaging in a project without proper planning by entering into an agreement while aware the money had not been budgeted for. The hearing will be October 12.