Tears as requiem mass of pupil in Kakamega stampede is held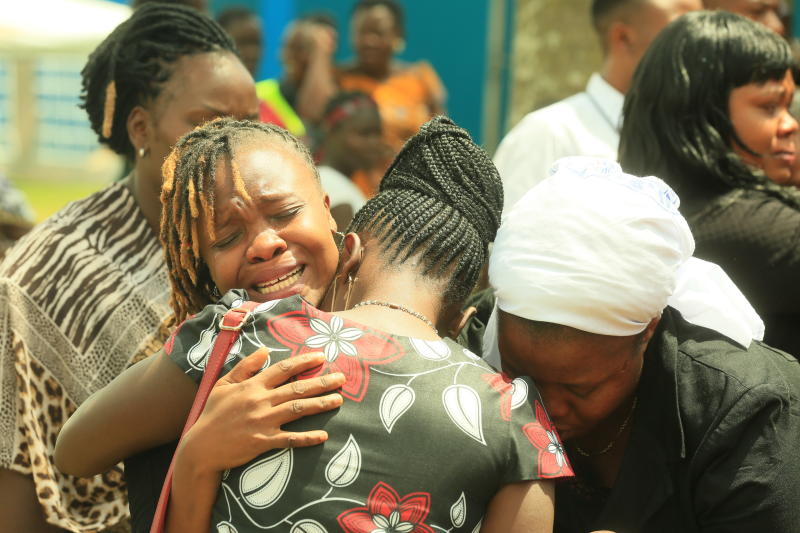 A sombre mood engulfed St Joseph Cathedral Kakamega church on Thursday where a requiem mass for Catherine Kate Aloo, one of the pupils who died in the stampede at Kakamega Primary School, was held.
Kate is among the 15 pupils who lost their lives in last week's tragedy. 14 have since been buried. Parents, teachers, family and friends gathered at the church to pay their last respects to a girl described by many as God-fearing.
The question of school safety was brought to the fore once more with many speakers challenging the government to come up with recommendations on how to avert calamities in school.
"It is very sad to lose a child, more so to lose one in such a careless manner. I urge all leaders to ensure the safety of our children," said Father Lawrence Ongoma.
To Peter Maamba, Kate's father, the pain of losing his firstborn child hit him so hard.
"I cannot believe she is gone and that the laughter she brought to my home is no more. For the last one week, I have been asking myself so many questions," he said.
To him, he wishes that someone would wake him up and tell him that his joyful Standard Five girl was not dead.
Emotions took the better of Kate's mother, Lucy Mugamasi during the service.
Education stakeholders and politicians have expressed their dissatisfaction in the manner in which the Ministry of Education is ensuring the safety of pupils in schools.
During last week's requiem mass in Bukhungu Stadium, Kenya National Union of Teachers Secretary General Wilson Sossion condemned the ministry for failing to come up with a detailed report on the safety of schools in the county.
"Unless they form a committee that will explore and come up with a report that will probe the safety of our schools, we shall continue losing our children to these tragedies," said Sossion.
Kate will be laid to rest on Saturday at her father's home in Shitsitswi Village in Butere sub-county.