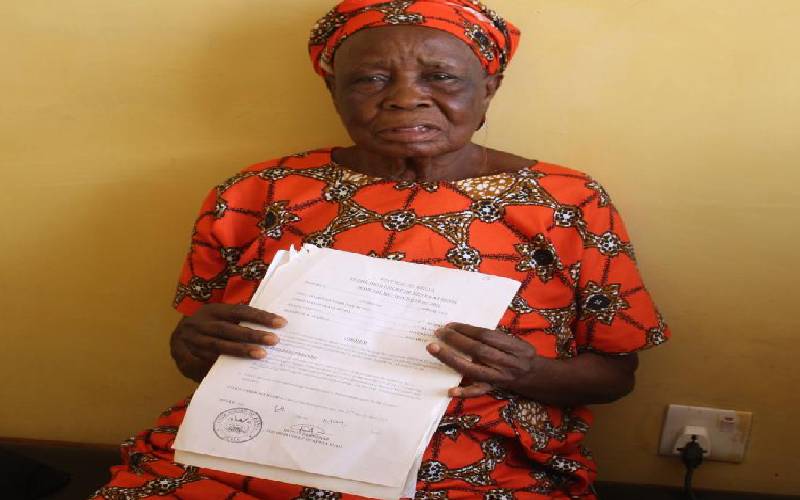 A 75-year-old woman finally won managed to retain a disputed piece of land after High Court ruled in her favour. Rispa Ongong'a had been sued by her co-wife's daughters in-law for allegedly declining to share with them a disputed piece of land. Beatrice Wanga and Anne Oloo had accused Mrs Ongong'a of fraudulently disinheriting their late husbands' estates of their ancestral property measuring 0.25 hectres. The pair in court documents argued that the disputed property was registered in the name of their father-in-law Andrea Ong'onga who died in 1983 and that before his demise, he had demarcated the property which to them deemed to be ancestral land that was supposed to be shared between his sons James Oloo and Francis Wanga who are deceased.
SEE ALSO: CS to testify on bid to revoke sub-county
It is against this backdrop that the duo moved to court to seek for orders that would allow them to inherit the property on behalf of their late husbands. Rispa, in a rejoinder, told Justice Kaniaru that the plaintiffs were not her children and therefore they are not entitled to the property. "They (Beatrice and Anne) were married to the sons of my co-wife who had her separate portion of land to which they were entitled," Rispa told the court. Environment and Land Court Judge Antony Kaniaru ruling, however, brings to an end the six-year legal battle over the prime property situated in Busia town. Kaniaru dismissed the case on the ground that the duo did not prove their case to the standard required for proof of fraud.
SEE ALSO: Court ruling limits Centum school fee
"In light of all this is that the plaintiffs' case is not proved to the standard required for proof of fraud and I hereby dismiss it," read the judgement in part. It reads further," It appears to me that in the circumstances of this case, the plaintiffs can only seek to be indemnified by the state or seek compensation from the defendant. But even that is subject to sufficient proof of entitlement to the land." The multi-million prime land currently has rental houses and commercial premises constructed on it.