Judgment on Bungoma wheelbarrow saga adjourned for the second time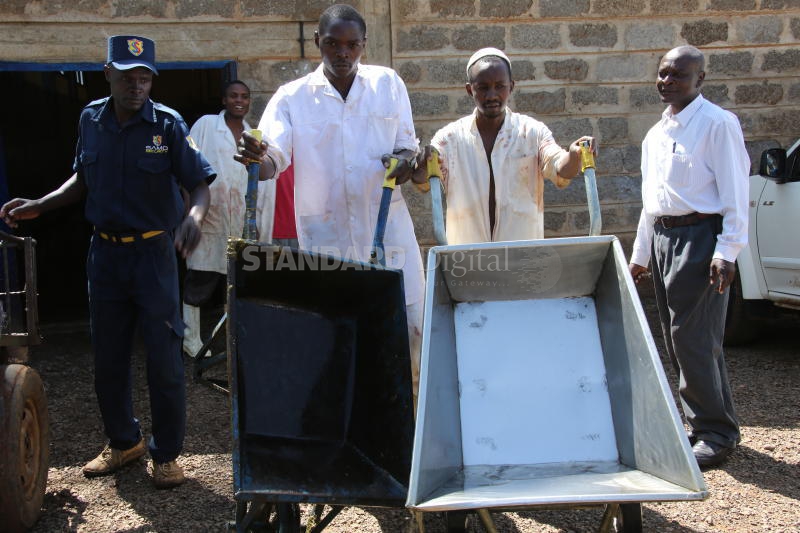 Seven people accused of buying wheelbarrows at inflated prices in Bungoma County will know their fate next week.
Chief magistrate Bildad Ochieng' was expected to deliver the judgement yesterday but deferred it to June 7, saying it was not ready.
This was the second time the verdict was being delayed. It was initially expected on May 24.
The magistrate said too much work had made it impossible for him to deliver the judgement on time.
The seven are John Juma Matsanza, Howard Lukadilu, Oscar Onyango Ojwang', Ayub Tuvaka China, Arlington Shikuku Omushieni, Jacquiline Nanjala Namukali and Reuben Cheruiyot Rutto.
Last week, while addressing inmates at Kakamega main prison, the magistrate lamented over what he termed low number of secretaries attached to judges and magistrates.
He said he had to type proceedings and judgements, causing the delays.
The suspects, who were members of the tender committee, are facing five counts of willful failure to comply with procurement laws.
State Counsel Paul Juma, in his final submissions, said they had proven their case beyond doubt after parading 16 witnesses, all of who implicated the accused.
Juma said the suspects rejected recommendations by the valuation committee.
"All the witnesses have told this court the tender committee members never conducted a market survey to establish the cost of a single wheelbarrow. Theirs was irregular use of tax-payers' money," Juma said.
He said a survey by Ethics and Anti-Corruption Commission (EACC) established that the price of a wheelbarrow varied between Sh2, 500 and Sh3, 500. However, the suspects bought them at Sh109, 320 each.
"From the foregoing, it is clear that the tender committee, together with the County Secretary, are liable for excessive payments of goods procured, thereby contravening Public Finance Management Act 2012 and Public Procurement Act 2012 that requires procurement to be made within the prevailing market prices," he said.
He dismissed claims that the tender was awarded to the lowest bidder.
"The award of the tender was an illegality. There is no justification that could cure this illegality," said Juma.
But lawyer Sylvester Mandialo said investigations were conducted when EACC was not well constituted.
Mandialo submitted that in absence of commissioners and the chairman, EACC could not make any findings to prosecute his clients.
"In the absence of the commissioners, the mandate to investigate and prefer charges do not lie with the secretariat. We pray that this court finds that the process of investigations was illegal and irregular, and acquit the accused persons," he said.
They bought the pushcarts from Jagla Enterprises. Other pre-qualified companies were Biovet, which was selling one wheelbarrow at Sh136, 700, Economic Crescent (Sh140, 000) and Chemiaty Enterprises (Sh122, 000).