Cotu Secretary General Francis Atwoli claims power brokers sabotaging war on corruption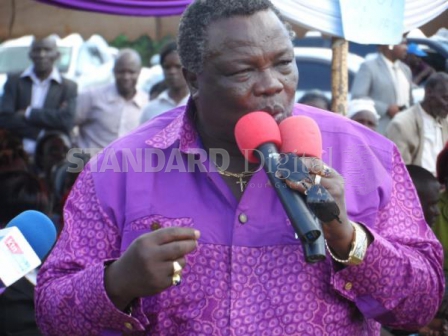 Central Organisation of Trade Union (Cotu) General Secretary Francis Atwoli has asked President Uhuru Kenyatta to sever links with power brokers and politicians who are a liability or risk losing the 2017 elections.
He claimed that the political brokers are a major hindrance to the fight against corruption and asked the president to emulate the working style of founding father Jomo Kenyatta, former presidents Moi and Kibaki for political survival.
"Jaramogi Oginga helped Kenyatta ascend to power and even called him Kenya's 'savior' but the immediate thing Jomo did while in power was to get rid of him," said Mr Atwoli.
He said former Attorney General Charles Njonjo championed efforts to change the Constitution in a bid to lock out Moi from the presidency.
"Moi threw him out of his government," said Atwoli. He added that Kibaki also sidelined Raila Odinga after the latter declared Kibaki Tosha and helped him ascend to power.
He argued that King makers world over come with a price tag giving a luhya saying that loosely translated to, "If you don't get rid of a person who introduced you to your wife the next thing he will do is take away your wife because he knows how to reach her."
He described the president as a man of clear vision and lauded him for taking the war on corruption at the door steps of corrupt officials by sacking five Cabinet Secretaries over graft allegations.
The Cotu boss urged Kenyans to give the Head of State room to fight graft saying he was on the right path.
He caused laughter when he said that the president should pursue Eurobond cash diligently after prayers from Pope Francis who visited last week.
"We saw president Uhuru being prayed for and he cut the figure of a contrite man in front of the pope when he especially asked to be prayed for the grace to tackle corruption in his government. Let's believe he was genuine and will pursue the Eurobond money and give him time to do so," he said.
Atwoli was speaking yesterday in Sabatia, Butere constituency, during the funeral service of Isaac Wamboye who was Kenya Union of Printing, Publishing, and Paper Manufacturing & Allied Workers secretary general.
At the same time he said Central Bank Governor Patrick Njoroge was competent and capable of changing the fortunes of the Shilling. Butere MP Andrew Toboso condemned corruption in the police force.