Wilson Kiprop abandons track for marathon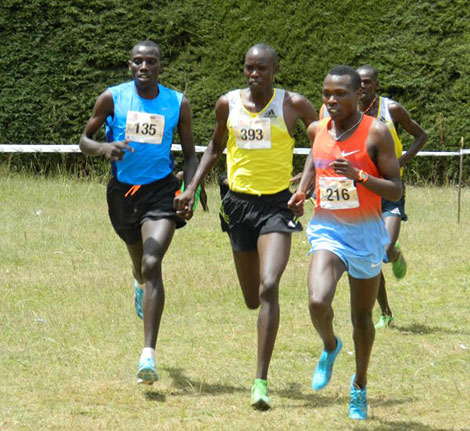 Stanley Biwott(135) Winner Wilson Kiprop(393) and Bedan Karoki (216) commanding the 10km men's race when Discovery cross cohe won untry in Eldoret
National 10,000m record holder Wilson Kiprop has finally abandoned the track for marathon.
The tartan specialist recently took part at the eighth edition of the Kass International Marathon that was won by newcomer Philip Kangogo.
"I have no regrets at all on track but it is the right time for me to switch to marathon at this age," said Kiprop who trains at Gienni De Madona Camp in Iten.
Kiprop, who started running while at Kaptebengwet Primary in Uasin Gishu County in 1998, cited lack of training tracks for his decision to shift to marathon where tarmac roads are all over the country.
He was selected for the 2011 World Championships but had to withdrew on the last minute due to an injury. In the 2012 London Olympics he failed to finish the race.
Kiprop competed in only one marathon- the 2009 Praque Marathon- posting impressive 2:09:09. He tried his luck again in Hamburg Marathon in 2013 but opted out of the race after covering about 40km.
"I was leading the race on an empty stomach. I had to tell some people that if you want me to finish this race, give me something to eat and there was no food, so I had to quit the race. Njaa ni mbaya sana," said the athlete.
His coach Solomon Serem said that they are targeting sub 2.06 in marathon and improve later.
"He may represent Kenya in marathon in the next World Championships or Olympics but we are not in hurry. We want to first make him gain endurance and skills in the event," Serem told FeverPitch.
Did festivities obscure new security laws??
The controversial security laws are at a stage where those against them can bank on no more hope than seeking an amendment on the same, unless they have other measures not yet known.