Taita Hills' little known attractions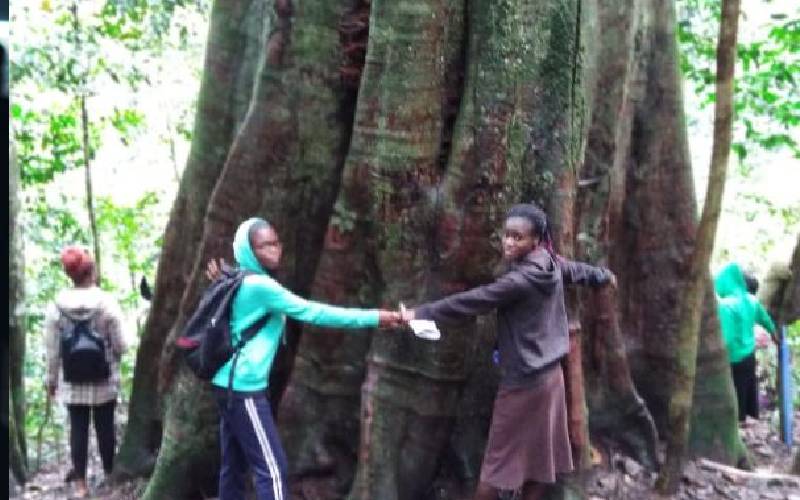 Taita-Taveta County is known for its many tourist attraction sites.
In the picturesque and breathtaking Taita Hills, lies Ngangao Forest that has a giant tree popularly known as "mother tree."
The tree has a perimeter equal to 10 grown-up people holding each other's hands around it. Arborists say the oldest indigenous trees aged more than 200 years old.
"It has a diameter of more than 10.4 metres with a height of 54 metres. It is one of the oldest indigenous tree in the country," said Johnam Mwamburi, a conservationist.
Mwamburi said the tree, locally known as "Chamsidu" and Newtonia Buchananwi scientifically is the only huge tree that remains standing.
"It is the only tallest tree in this forest which has over the years been saved from vicious illegal loggers," said Mwamburi who is a conservationist at the forest.
County Ecosystem Conservator Charles Ngure Kuria said Kenya Forest Services saved the tree from loggers by engaging the local community.
"The tree is of immense benefit to the local community as it assists in weather forecasts. Local old men tell us that when it produces some green flowers during prolonged drought it only takes about one week to rain heavily," says Mwamburi.
Ngangao forest, which is surrounded by the villages of Makandenyi, Maghimbinyi, Mgambonyi, Kitumbi is one of the few indigenous cloud forest in Taita Hills.
Ngangao occupies 120 hectares and is the second-largest forest and one of the lesser disturbed forests of the Taita Hills.
As a result, Kuria says, the forest is a stronghold for many plant and animal species. There are three endemic birds' species in Taita Hills.
Taita thrush, Taita Apalis and Taita White Eye are large numbers. Other plants, like the Zimmermannia Ovata, are found in the dryer parts of Ngangao Forest.