Remove 'matatus', 'chokoras' and hawkers in Nairobi CBD
UREPORT
Nairobi, popularly known as "Green City in the Sun", has completely been mutilated! The invasion of city streets by beggars, hawkers, 'chokoras', 'bodaboda' and 'matatus' is worrying! More worrying is the inability of the county government of Nairobi to reign over this madness!
By DrNjenga Solomon | 5 years ago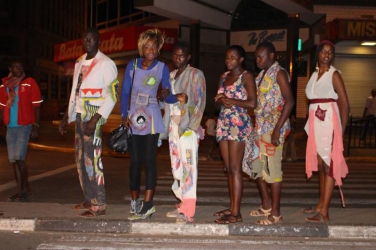 Chokora Wear is the new street haute couture
Chances are you would never buy a torn short, an old hand bag, out-of style shoes or an over-sized jeans. If anything, these are the outfits you threw out of your wardrobe to make room for new, trendy apparel.
ANJELLAH OWINO | 6 years ago
Askaris take 94 chokoras for rehab
About 94 chokoras have been rounded up and taken away from the streets since The Nairobian reported about their return to city centre.
By CYRUS OMBATI | 7 years ago
Return of "chokoraa" Pt 2 - swahili
Maswali mengi yanaulizwa mbona familia zinazorandaranda zimarejea tena kwa vishindo katika miji yetu. Ni nani wa kulaumiwa kwa kupuuzilia wajibu wake? Ni wazazi, jamii, au serikali? Na je hazina ya kitaifa iliyotwikwa jukumu la kuwajibikia masilahi ya familia hizo imepiga hatua gani miaka minane tangu ilipobuniwa? Hayo ni kati tu ya maswali ambayo john juma anatafutia majibu kwenye taarifa ifuatayo