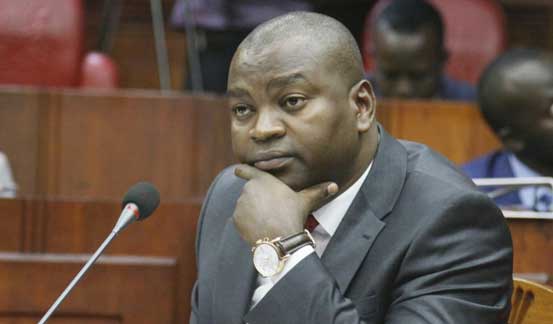 Sports CS Rashid Echesa is to appear before the Parliamentary Committee on Implementation tomorrow, Tuesday, to shed light on the status of the Sports Act 2013.
The Committee's Vice-Chair Hon. Godfrey Otsotsi confirmed to The Standard the Sports ministry's boss invitation saying Echesa should explain the status of the National Sports Fund.
"We had invited him much earlier to explain to the Committee the status of the Act, but obviously the latest reports on planned amendments to the act will inform our engagement," Hon Otsotsi said.
"There are a raft of issues including the status of the National Sports Fund account; how much has been deposited into it from the taxes derived from betting and lotteries since the Sports Act 2013 came into force," Hon Otsotsi said on Monday.
"We are interested in compliance with the Law and now the planned amendments to the Act has added the impetus," he said.
The Committee on Implementation is chaired by Narok North MP Moitalel Ole Kenta.
Angry reactions from sports federations has greeted plans by Treasury and National Planning ministry to repeal Part III of the principal Act establishing the National Sports Fund.
Sports Act 2013 also established Sports Kenya (construct, maintain and manage infrastructure) and the Kenya Academy of Sports (establish and manage sports academies).
But Treasury CS Henry Rotich has published an amendment bill -- Sports (Amendment) Bill 2018 which will abolish National Sports Fund and in its place a new Sports, Arts and Social Development Fund under its wings.
This will give the Treasury, and not the Sports Ministry, the absolute control of betting money contrary to the provisions of Sports Act 2013.
And yesterday, Hon Otsotsi warned against repealing of the Act without the input of key stakeholders.
"By dismantling the National Sports Fund and carting it away to the Treasury, Rotich will effectively be driving the nail on the dreams of the Kenyan youth. It means, setting up of academies at County level will now be a pipedream," Hon. Otsotsi said on Monday.