No turning back on CBC, the train has left station, CS Magoha tells critics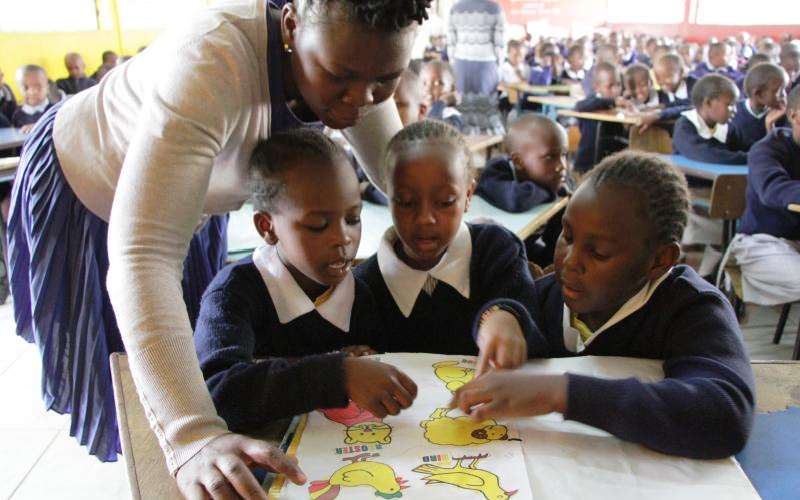 The new Competency Based Curriculum (CBC) will be subjected to a review in 2022 on the fifth year of its implementation, the Ministry of Education said yesterday.
This means that the concerns presently being raised by parents, teachers and other education stakeholders will be taken on board when the review gets underway, and not now.
Basic Education PS Jwan Julius yesterday said United Nations Educational, Scientific and Cultural Organisation (UNESCO) guidelines require that every education curriculum is subjected to a review after every five years.
"This means that we look at the teething problems or what we have introduced and check how they can be fine tuned," Jwan told members of Kenya Editors Guild during a breakfast meeting between journalists and Kenya Institute of Curriculum Development (KICD).
The CBC entered its fourth year when schools opened in August. This means KICD will start the review of the new curriculum next year to capture the contentious issues so far raised around implementation.
His explanation came on a day when Education Cabinet Secretary, George Magoha declared that the implementation of CBC was unstoppable despite criticism from parents and people he called experts.
While addressing editors at the breakfast meeting — KICD's initiative of engaging the media to give more information on CBC — Magoha announced that the CBC train has left station and there is no turning back.
''Nothing is perfect in Kenya, not even CBC but let us know for sure that CBC train left the station long ago in 2018 even before I was appointed the Cabinet Secretary. It is moving forward and not turning back,'' said Prof Magoha.
Magoha was reacting to criticism from parents and people he derisively referred to as experts.
KICD chief executive Charles On'gondo said the institute is rolling out an elaborate stakeholders engagement that started with sensitisation meeting for MPs last week. He said the meeting with editors yesterday was part of series of engagements which will also include representatives of universities and colleges.
"We are alive to the concerns raised by Kenyans and we have started serious engagements to explain the new curriculum. We however plead with Kenyans to be patient as some of the teething problems are addressed," said On'gondo.
"As an institute we are committed to the full and successful implementation of the new curriculum and we shall listen to everyone's concerns."
Jwan said all the concerns being raised now are healthy and will assist KICD when the review of the CBC starts.
He added that KICD will be expected to develop a tool that will be used to gather information from parents, teachers and other education stakeholders in areas that need to be reviewed.
"After that, based on feedback from the field, it will be known which areas of CBC need to be adjusted to refine it. If the feedback will identify books, methodology, duration of teaching, the learning areas or teaching aids and resources, then those will be subjected to review."
Jwan said these issues will however be taken through public validation. He said curriculum is not reformed because it is bad. It's reformed because times have changed.
Responding to complains that schools have no teaching equipment, Prof Magoha said the critics should be armed with facts. ''Saying that the government is doing nothing is being unfair because the facts are there,'' he said, adding they will do everything possible to ensure CBC succeeds.
The CS added that five million children already learning under CBC are happy and no one should think of going to court with hopes of stopping CBC.
According to Teachers Service Commission Director of Quality Assurance Rueben Nthamburi, over 228,000 teachers in primary schools have been trained to handle CBC since 2019 through a multiagency approach, mostly done at zonal level by use of Curriculum Support Officers (CSOs) and champion teachers.
Another 106,000 teachers for grades 1 to 6 will be trained in November and December this year while an additional 60,000 secondary teachers will be trained in March to April next year to prepare for grades 7 to 9.
Prof Magoha explained there is no need for a teacher with basic college education to go back to class for a period of four years to be retrained on CBC. All they needed were just refresher courses.
While responding to claims of little funding for education, the CS said Kenya was rated top in Africa when it comes to funding education, better than even South Africa.
''What the so-called experts should be asking is how to get value for money and not ask about funding. People should avoid saying the government is not spending much on CBC yet it is catering for all textbooks. They should go around to confirm that,'' said Magoha.
Dr Sarah Ruto, the Chief Administrative Secretary for Education welcomed the criticism over CBC saying she would not want to sit in a Ministry where no one is talking about what she is doing. "I need to see these further engagements. I see it as something positive and it means Kenyans are thinking of education. Let there be criticism but let it be balanced. A critic can only make you feel better,'' she said.
She said ministry's vision was very clear on where the country is going with CBC.
Prof Fatuma Chege, the PS for the Implementation of Curriculum Reforms at Ministry of Education, said universities have also been brought on board to reform their curriculum to align with CBC. ''Embu and Kenyatta universities have submitted their revised course programmes to Commission for University Education (CUE),'' she said.