Can Ruto and his wheelbarrow juggernaut be stalled before the race proper?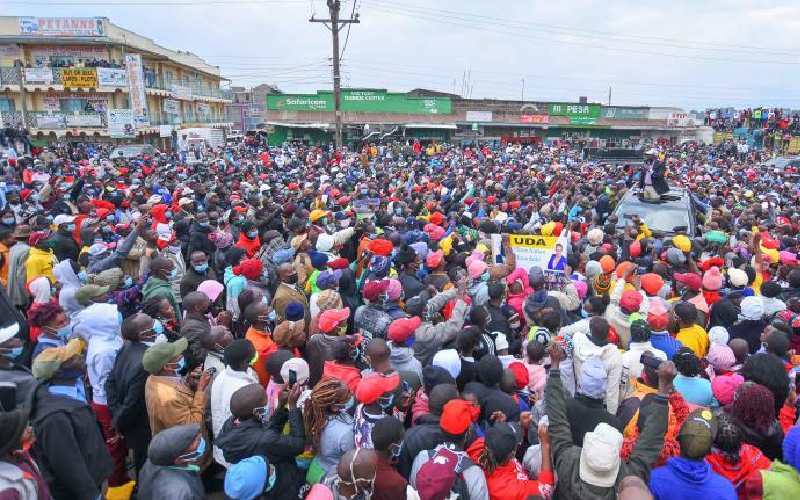 The moment of truth has come for Deputy President William Ruto and Jubilee affiliate party, the United Democratic Alliance (UDA).
Ruto is not just a presidential aspirant for the 2022 election, he is now an election agenda.
His role in next year's presidential race was most recently dramatised by Wiper party leader, Kalonzo Musyoka, when he told a gathering in Ukambani backyard, "My first priority in this election is to defeat William Ruto next year."
With all other major presidential hopefuls training their guns on him, the deputy president is facing the political fight of his life. There is possibility that he could easily find himself without a party to contest on, and with political body blows descending upon him like an avalanche of hailstones.
His bottom-up development model, while well entrenched in economic studies, has been bastardised. It is being distorted and framed for lustful scandal and ridicule. It does not help matters that some of his associates have not grasped the meaning of a bottom-up development agenda.
Kandara MP Alice Wahome, was recently petrified when asked on live TV to explain the notion. She waffled and babbled nervously, giving easy fodder to DP's detractors.
And in a move that closely mirrors past attrition by the establishment against its opponents, the Ruto party has narrowly avoided finding itself before the Political Parties Dispute Resolution Tribunal to answer to the charge of irregularly taking over a political party and its leadership.
Former senators Johnston Muthama (Machakos) and Boni Khalwale (Kakamega) were identified last week, alongside UDA secretary-general Veronica Maina, for unlawfully taking over the party in its former guise as the Party for Development and Reforms (PDR) and illegally changing the national party officials.
Muthama is the UDA chair, while Khalwale is one of the two deputy party leaders. Muthama and Khalwale left Wiper and Ford Kenya parties respectively, to front for PDR, which they relaunched as UDA.
Lonely corner
They have previously led UDA campaigns in Machakos (Senate), Matungu, Kabuchai and recently in Kiambaa, where victorious UDA candidate is the first and only UDA Member of Parliament.
He joins Ugenya's David Ochieng of Movement for Development and Growth (MDG) in the lonely corner of single MPs, elected against odds in a by-election. Ochieng was in 2019 re-elected to represent Ugenya after beating ODM's Chris Karan.
The Kiambaa victory has jolted into adversarial action the foes of UDA and the DP. They have encircled the DP in a battle of wits to slow him down, and possibly scuttle his presidential ambitions next year.
The DP and his allies have been sending shockwaves across the country, but more especially so in Mt Kenya. Against all previous odds, the DP has steadily gained a strong foothold in the Mountain. This traction flies against the grain of a region that has historically never been known to rally behind a non-indigene.
Several factors have combined to vary this trend which, if sustained, could see the Mountain for the first time go against the dominant political voice in the region. First, President Uhuru Kenyatta's seed of 'ten years for me, followed by ten years for Ruto' has germinated. It found good soil and nurture.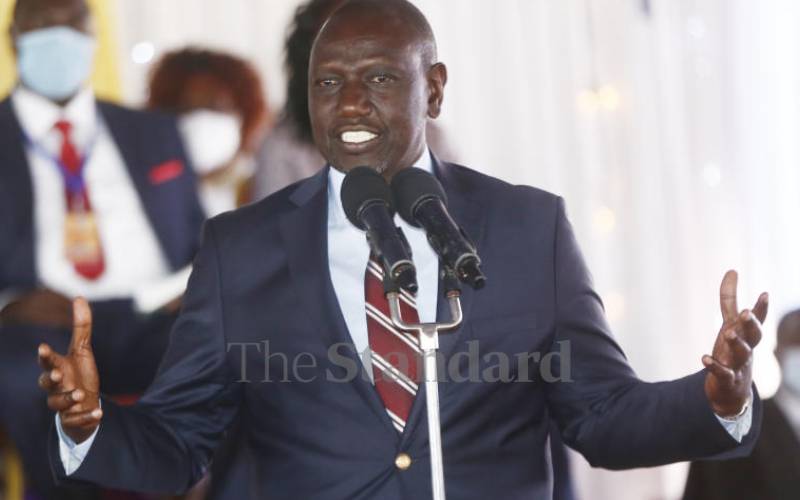 It is proving difficult for weeds of ridicule to overwhelm the crop. Two factors account for this. First is the need to live up to Uhuru's promissory note to Ruto and second the Ruto 'hustler nation' message that resonates with a critical mass.
Significant numbers of elite and local leaders seem keen to remove the stigma of the impression that the region cannot be trusted. There is the belief that the Mountain rides to power on the crest of other regions, but that it cannot support leaders from other regions.
The flip side of this perspective is the view that the Mountain has no capacity for gratitude, nor can it be trusted to fulfill futuristic political covenants.
Pundits have observed that despite the massive hand of Jaramogi Oginga Odinga in President Jomo Kenyatta's ascendancy to power in 1962-63, Kenyatta later sidelined Jaramogi and even detained him.
Convergence of sorts
Next was President Mwai Kibaki's alleged betrayal of an MoU with ODM leader Raila Odinga, ahead of the famous 'Kibaki Tosha' call of 2002 that propelled him to power as Kenya's third president.
Once in power, Kibaki is reputed to have thrown overboard everything he had agreed on with Raila, thereby occasioning unprecedented bad blood that climaxed in the post-election chaos of 2007/8. And now there is the rejection of Ruto by President Uhuru.
Mt Kenya MPs allied to Ruto, such as Rigathi Gachagua, Kimani Ichung'wa (Limuru), Ndindi Nyoro (Kiharu) and Murang'a Senator Irungu Kang'ata, have repeatedly told locals that they must remove what they call 'the stigma of a user community.'
In this, they find a convergence of sorts with President Uhuru, who told mourners at a funeral in Vihiga, last year, that it was time for the country to be ruled by someone from a tribe other than Kikuyu and Kalenjin.
While appearing to plead with his community to support an outsider, for once, the president in the selfsame breath, however, ran away from his pledge of 'ten for me, and ten for Ruto,' thereby trapping himself in the same bind of mistrust.
But it is perhaps the hustler message than anything else that captures the imagination of the ordinary people, not just in the Mountain, but elsewhere, too.
Leading propagandists and students of propaganda in history, from them the iconic Walter Lippmann to the villainous Adolf Hitler, have known that the most efficient way to win over people is to cast before them a vague populist message.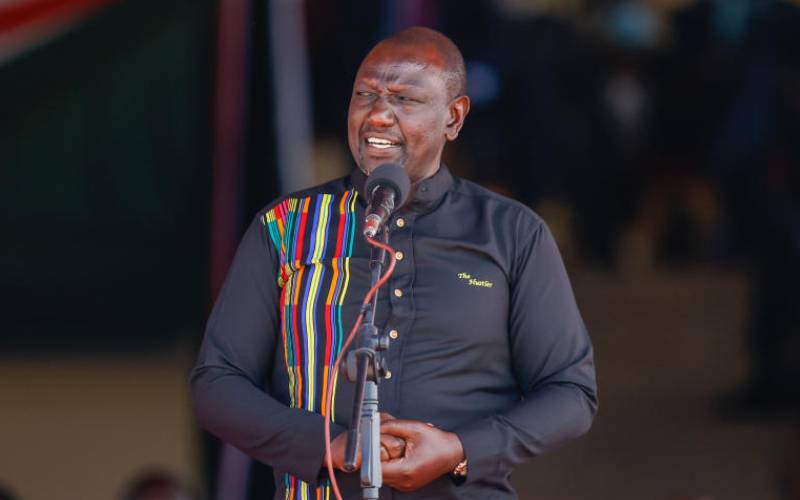 Everyone interprets it in their own way. The hustler message of reorganising benefits of government in a 'bottom-up' manner is such a vague popular message. Its thrust is that the hour has come for the forgotten bottom tens of millions. They, too, must benefit from the fat and flesh of the country.
Such a message resonates well with a labouring population that has travelled through nearly six decades of independence feeling left on the fringes of economic and social despair. Moreover, in Central Kenya, there have been numerous moments of hope that do not seem to have brought much. Independence was about the return of the stolen lands from a White settler community.
The Kenyatta regime did not deliver the much-anticipated lands. Most of the large scale European farms went to a new class of African large scale farmers, as the dispossessed poor migrated to live on small plots in other parts of the country – mostly in the Rift Valley – on property acquired through land buying companies.
Feelings of alienation remain, sometimes expressing themselves through dreadful organisations like Mungiki and other militias. The hustler nation message resonates well with such demographics, even without clear explanation of what it really is, and in the absence of a blueprint of the bottom-up economics.
The hustler's wheelbarrow has come to symbolise the change the hustler's dream of. It is not even clear that, when he began dishing out wheelbarrows and other implements of manual labour, Ruto always knew that the wheelbarrow was going to be the symbol of a national political party.
His detractors, and most notably Raila, have attempted to scorn and laugh off the wheelbarrow. It seems, however, like the wounded laughing at the wound.
In the wake of the wheelbarrow victory in Kiambaa and the sterling performance by hustler political parties and their allies in by-elections elsewhere in Msambweni, Juja and in a number of wards across the country, the movement starts becoming a veritable threat to its detractors.
It is no longer a laughing matter. The wheelbarrow could consign many elite political careers to their graves. Hence, everyone must adapt to the emerged reality in their own way.
For some, the done thing is to join the movement. In Kiambu County, the by-election sent clear signals that things were changing. A number of MPs either crossed over from Jubilee Party to join the hustlers or, alternatively, went quiet altogether, not wishing to upset the hustler electorate.
Avalanche of defections
Gathoni wa Muchomba has since met the DP, as has Kate Waruguru from Laikipia. Nominated Senator Isaac Mwaura decamped late last year and got the sack this year. Others are watching in strategic silence. If the wheelbarrow grows wings and flies, they will reach out for it before it is fully airborne. But if it is stuck in mud, they will move on.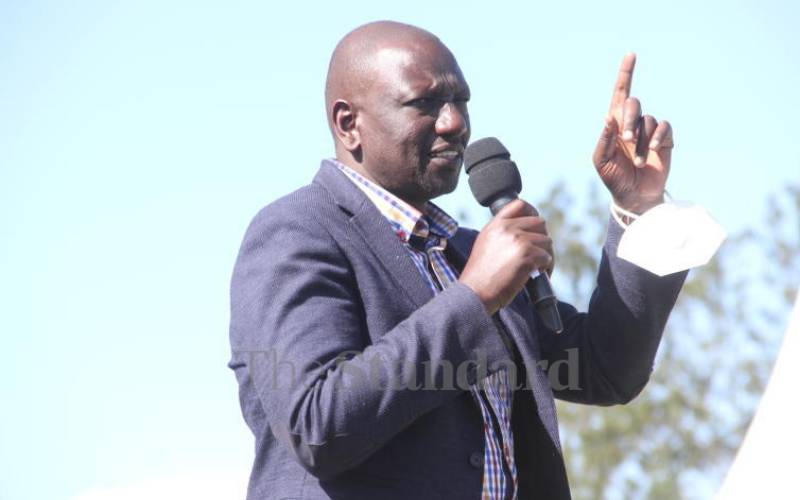 The possibility of an avalanche of defections to UDA makes it imperative to scuttle the wheelbarrow party as a matter of priority. A disturbed-to-uncertain environment in UDA will make it foolhardy to attempt to relocate into that space.
The symbol of the wheelbarrow must, for its part, be destroyed with the party, if the UDA detractors will have things go their way. Ruto must be sent back to the drawing board to look for another party afresh, and begin party branding and marketing all over.
Aggrieved parties
He survived narrowly last week, when the aggrieved parties were summoned to his Karen office. What happened there is anybody's guess. But the bid to take back UDA is silent – at least for now.
Instructively, this is not the first time the political party situation has got cloudy just before the elections. In the lead up to the 2007 elections, Kalonzo ran away with ODM Kenya Party, leaving Raila, Musalia Mudavadi, Ruto and others high and dry.
Mercifully, then little known Mugambi Imanyara had opportunistically registered another ODM Party. The Raila squad acquired it at a fee for the messy election of that year.
Earlier in 1992, the original Ford fraternity found itself at a delicate crossroads, when two factions each insisted that it was the legitimate leadership team. They gave a nervous Kanu government the opportunity to split them and weaken the opposition by registering both.
For now, Ruto and UDA have survived. But, it is just the beginning of the big fight. For all their seeming differences, all the big boys are watching only one common opponent, William Samoei Ruto.
That makes him more than an election contender. He is an election issue.