Eyes on James Orengo as ODM split deepens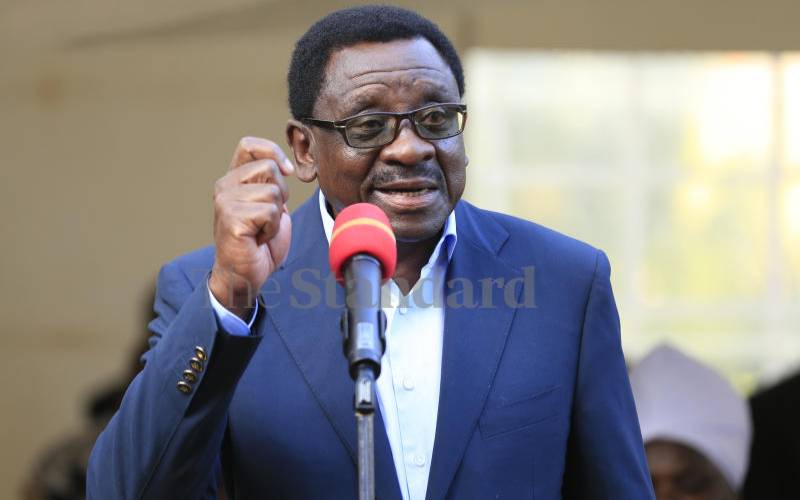 Senate Minority Leader and Siaya Senator James Orengo has been accused of stirring division in ODM.
In what seems like a typical case of give a dog a bad name and hang him, Orengo's critics, some ODM leaders, have called him out for going against the party position on the Building Bridges Initiative (BBI) Bill.
The senator is leading a group of lawyer MPs from Nyanza, who have vowed to push for changes to the Constitution of Kenya (Amendment) Bill, 2020 before it is passed by Parliament.
ODM leader Raila Odinga's spokesperson Dennis Onyango waded into the controversy and termed the Orengo-led group 'demagogues' in a Facebook post.
"The demagogues have had their years, indeed decades, discussing politics in flawless English and legal jargon on the floor and public rallies. It is time for a different path," posted Mr Onyango.
In another post, he said though Mzee Jomo Kenyatta never spoke flawless English, and nobody knew where he stood ideologically, he ruled Kenya for 15 years.
"Mzee Daniel arap Moi did not approach us in flawless English. He never told us what his ideologies were. He never told us what his high school was or which faculty he was in. He ruled for 24 years. Mwai Kibaki never approached us with flawless English. He never even spoke of his university years. He was known as a coward. He did his 10 years," Onyango said.
He added that President Uhuru Kenyatta had never shared his ideologies or university faculty, or university years, yet he was approaching his tenth year in power.
Take a quick survey and help us improve our website!
Take a survey
"There is a pattern to all this. Enough with English, faculty and demagoguery," Onyango said.
Yesterday, an MP who sought anonymity said Orengo was a saboteur within the party. The MP said told The Standard that the senator is allegedly trying to win over MPs and prop up aspirants hoping that the next Parliament can have a group loyal to him. "In case Raila becomes President, he will then be forced to negotiate with Orengo. Same thing Deputy President William Ruto did to President Uhuru Kenyatta," the lawmaker said.
The political war in ODM, which began as push and pull over whether to amend the BBI Bill, has snowballed to split the party.
Besides the BBI is the vicious battle for political seats ahead of 2022 elections.
Once a strong and united political outfit that has straddled Kenyan politics since 2005 when it was formed after the historic referendum to amend the Constitution, the emerging divisions are threatening to split the party.
The bad blood was also triggered by the proposal to create 70 new constituencies.
Majority of Nyanza MPs have been guarded in the push for new constituencies for fear of antagonising Raila.
In one group is Orengo, Suba South MP Millie Odhiambo, Otiende Amollo (Rarieda) and Ruaraka's TJ Kajwang', who have been vocal about pushing for amendments, arguing that Parliament cannot play a 'flower girl' role in the constitutional review.
Speaking in Siaya County at the weekend, the Senate Minority Leader and Mr Amollo vowed to ensure the Bill was amended before it is passed by Parliament. "I know the BBI Bill will be passed next week despite the hurdles. All these small things we have been experiencing could be a bridge to cross over to better things," Orengo said.
But another group, led by ODM chair John Mbadi, Suna East MP Junet Mohamed and Ugunja MP Opiyo Wandayi, has accused the Orengo-led team of scheming to scuttle the BBI agenda.
The Mbadi group said the referendum would be held in July or August and urged Kenyans to vote yes.
Yesterday Wandayi said he would respect the party position on the Bill. "I subscribe to school of thought that once you are in a political party by choice, you are bound to the position on every issue that is unanimously sought," he said, and announced that he had not declared interest in Siaya governorship.
There are those who believe that Orengo's bid for Siaya governorship could pit him against Raila's elder brother Oburu Odinga. The scenario in Siaya is replicated in the four Nyanza counties, with Raila's allies going against each other.
- Additional reporting by Eric Abuga and Olivia Odhiambo