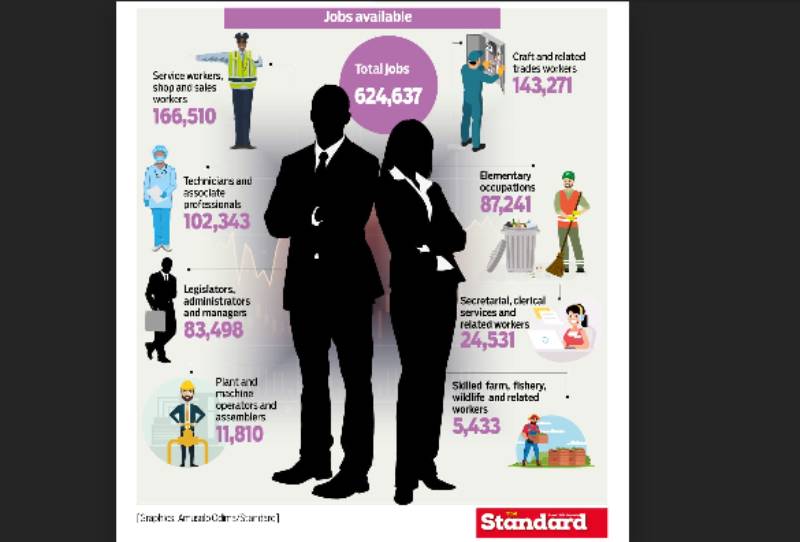 When the Parliamentary Service Commission (PSC) advertised for various job vacancies, some positions surprisingly did not attract enough applicants.
"The following vacancies were non-responsive and therefore will be re-advertised," PSC said on its website. These vacancies included an artisan in building works - someone who would be involved in construction, erection, assembly or placement of a building or structure.
Others were a chargehand - someone who ranks below the foreman and who is in charge of a small group of workers. They also wanted a mechanical artisan as well as a transport officer to co-ordinate the movement of vehicles and other transportation assets.
Now, a new survey by the Ministry of Labour, which sampled informal enterprises across the 47 counties between June and July, 2019, has shown that there are a total of 624,637 vacancies during this period, most of them requiring technical skills.
Read More
Most of the vacancies, 504,068, were in enterprises within urban areas. Besides builders, welders, printers, machine operators, electricians, food processors and carpenters, others whose skills were in high demand were technicians and associate professionals such as engineers and medics.
There was also a dearth in service workers such as shop attendants and marketers.
"Enterprises with the highest number of vacancies (283,355 and 149,421) were wholesale and retail trade; repair of motor vehicles and motorcycles activities and manufacturing, respectively," reads part of the report dubbed Informal Sectors Skills and Occupations Survey, 2020.
"Further analysis of occupations shows that the highest number of vacancies were service workers, shop and market sales workers, craft and related trades workers, technicians and associate professionals (166,510).
"The findings mirror those of 2010/2011 National Manpower Survey Basic Report (NMS), also by the Ministry of Labour.
The NMS survey, which looked at the entire inventory of the labour force in Kenya, including the wage labour, found that in the public sector, there were skill shortages in the major occupation groups of professionals, technicians and associate professionals.
Sharpest shortage
The shortage was highest in area of education (at 56.08 per cent), followed by public administration and defence, and compulsory social security. Private sector reported skills shortages in managerial areas, technical and support staff.
The economic sector, with the sharpest shortage was in wholesale and retail trade, and repair of motor vehicles and motorcycles, followed by finance and insurance, human health and social work.
The existence of job vacancies last year coincided with the findings by the Kenya National Bureau of Statistics (KNBS) that there were 874,460 working age youth that were unemployed between April and June, meaning they were out of work and were actively looking for jobs.
Analysts have blamed this disconnect on the existence of what is known as skills mismatch — a situation where the skills possessed by labour market participants are not the ones required by industry.
Indeed, Kenya has been churning out more business managers than scientists and technicians, a situation that has left the country with an inverted workforce akin to an army with more generals than foot-soldiers.
For example, from the results of the 2019 census, there were twice as many people who said they had some training in business management, 779,621, compared to those who said they had some training in engineering and technology at 307,699.
The move by former President Mwai Kibaki's regime to convert many middle-level colleges into universities was the genesis of the problem that created a shortage of technical skills, as more students went for degrees.
Whereas Kenya is largely an agricultural economy, there were 87,144, or 0.4 per cent of the total, that said they had some training in agriculture such as agribusiness, horticulture, agricultural economics, or crop sciences.
There were even more people who had some training in journalism, media studies and communication, 87,589, compared to those with some training on crop and animal production.
According to experts, not only does the skills mismatch lead to mass unemployment and force employers to incur huge costs in recruitment, with many forced to re-advertise vacancies, it also leads to low productivity and industrial competitiveness.
"And when you talk about the issue of competitiveness, then you are talking about economic growth," said Jackob Omolo, a labour economist, in a past interview with The Standard.
Fearing that the continued skills mismatch might contribute to a slowdown in the country's development agenda, the government has reportedly been mulling a programme that will see it reduce funding for courses that are not at the heart of the country's long-term development.
Consequently, students with a background in science and technology will get government funding if they are admitted to study those courses, should the proposal go through.
Proposal criticised
The proposal has, however, been criticised by some stakeholders in the education sector, with dissenters noting that all courses are important in their own right.
But the mismatch could also be a result of what economists call asymmetry of information, where qualified job seekers do not get to know where there are opportunities.
Moreover, there are people who would not like to do jobs that are below their cadre. For example, a lecturer teaching in primary school would lead to underemployment, according to Gerishon Ikiara, an economist.
The findings also come at a time the country is grappling with a major unemployment crisis occasioned by Covid-19, with close to 1.7 million people, mostly the youth, being rendered jobless.
However, the unemployment has also pushed more people into the food business, spawning what is increasingly turning into car boot sales with a lot of people that could not access their workplaces now selling vegetables, fruits and eggs in estates in Nairobi.
There were 5 million Informal Sector Enterprises, according to the new report, with 11,722,943 telling interviewers they are currently engaged. Another 11,872,496 persons said they were 'usually' engaged in the informal sector.