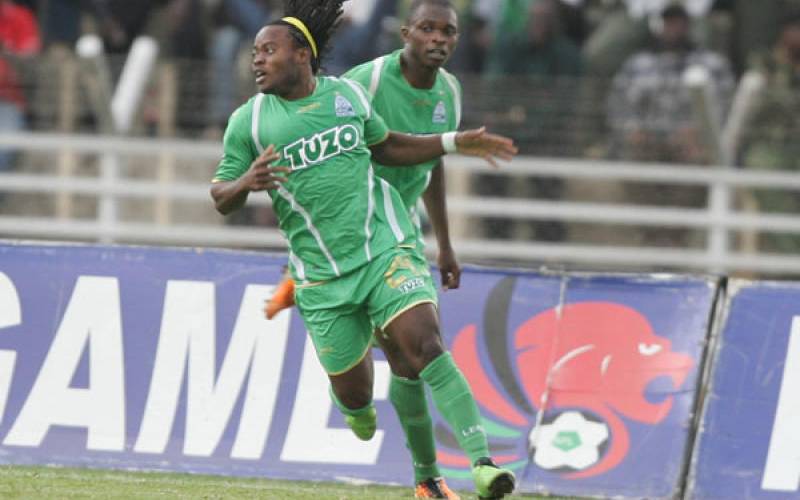 Kenya has had a good share of such footballers — who transitioned from the pitch to the recording studio. Like Spanish crooner Julio Iglesias. The former goalkeeper for second-division side Real Madrid Castilla sold 300 million records in 14 languages worldwide over four decades.
The man who went professional while studying law told Forbes, the wealth tracker magazine in 2017: "I invest a lot of time, a lot of my salary in real estate all over the world. I didn't make any mistakes, fortunately." Forbes had then valued Iglesias as worth US$600 million (Sh60 billion).
Iglesias became a singer after a horrific car accident left him with career-terminating injuries for two years. While at the hospital, a nurse gave him a guitar to pass time, and the rest is history of When I need You, Crazy, Starry Night, My Love among other global hits.
It just illustrates that footballers should explore their other talents as they could be 'playing around with a gold mine'.
In Kenya, though, football stars who were also musicians had roots in Congo, that country which gave the world great rhumba while serving the tastiest tilapia in Africa.
Read More
Consider Demonde Selenga. He turned up for AFC Leopards, Gor Mahia and Shabana FC. A gifted winger, he was more of a showbiz footballer, but who scored crucial goals in the mashemeji derbies. After training, he often showered, applied expensive cologne and switched into stage attire as a musician and dancer at the defunct Simmers Restaurant along Kenyatta Avenue, Nairobi.
Selenga arrived in Kenya around 2010. Like many Congolese from DRC, he identified their convergence point as Simmers Restaurant along Kenyatta Avenue. The temporary structure that hosted the famous hangout was demolished in 2019. It had a bar, restaurant and nightclub with a regular live band called Bilenge Orchestra. This is where most Congolese considered their roundabout or unofficial physical address. Selenga once in a while joined the band members during their performance, dancing away the night at Simmers. Music, however, did not interfere with his football because he was the ever-speedy winger we knew. His greatest undoing was his happy-go-lucky and casual approach to the game.
Ironically, this is the first entertainment joint Jan Koops frequented when he came to Kenya. It is not clear if the Dutchman nicknamed 'Wepukhulu' introduced Selenga to Ingwe. After one year, he was thrown out and accused of inciting other players to go on strike. He crossed over to their bitter rivals Gor Mahia, then onwards to Shabana FC. By 2019, Demonde Selenga was the assistant coach at Zoo FC of Kericho. The head coach was Sammy Okoth.
But before Selenga, there was another Congolese, Pele Ekwaki Ondidia, who ran rings around Kenyan defenders in the 1980s. The winger, nicknamed after Brazilian great Pele, played for Re-Union FC, then a top club in the Kenyan Premier League.
Pele would rush home for a quick shower and cologne spray, before joining Samba Mapangala's Les Kinois band as a vocalist. Other band members included Madjo Maduley and Bibiley Kabakaba. An encounter with Pele in the streets of Nairobi would not help one to distinguish between Pele the footballer with a football club or Pele the music entertainer at a nightclub.
Pele had come to Kenya with the group of musicians who teamed up under the leadership of Samba Mapangala to form Orchestra Les Kinois. His footballing with Reunion FC brought him closer to fans in Kaloleni estate where he lived with his mtaa wife. They were torn between supporting Pele the musician or the footballer. He passed on in 2008.
But the greatest footballer to ever become a musician was also Congolese, Freddy Mayaula Mayoni, of the great TPOK Jazz. He played great football and played greater music with the great music icon Franco Luanzo Luambo Makiadi.
Gifted academically, Mayaula came from an affluent family; he passed his primary and secondary school very well. His football career started off at AS Vita Club of Kinshasa, where he played as a winger before receiving a call-up to the then Mobutu's Zaire national team, the Leopards, that took part in the 1974 FIFA World Cup in Munich, Germany. The great Franco was then the president of the Kinshasa-based football club.
It is not very easy to find footballers who are naturally gifted with mixed talent like Mayaula. When Mayaula's diplomat father was posted to Dar, the young man played briefly for Yanga FC before leaving for Belgium to further his studies. While there, he picked up soccer again by joining Racing Club Charleroi then moved on to FC Fribourg in Switzerland after studies.
Mayaula returned home, but decided to abandon soccer altogether. He joined a small band called Orchestra Africana as a rhythm guitarist. When Franco heard that his gifted boy was back in Congo and was still interested in music, he sent emissaries to convince Mayaula to re-join TPOK Jazz.
As a quick learner, he had mastered many instruments, including the rhythm guitar, besides composing and singing. This fitted well with what Franco was looking for, a multi talented guy. His first product with the band was a wonderful masterpiece titled Cherie Bondowe.
The hit is acclaimed to be one of the best to have come out of the TPOK studios. Also to give him prominence was another popular chart buster Ba Chagrins, which topped Kenyan music charts in the early 1980s. Ironically, many Kenyans loved the number, but were not aware that the composer of both Ba Chagrins and Cherie Bondowe was once a world-class football star.