From nomadic pastoralist to 'herding' the national purse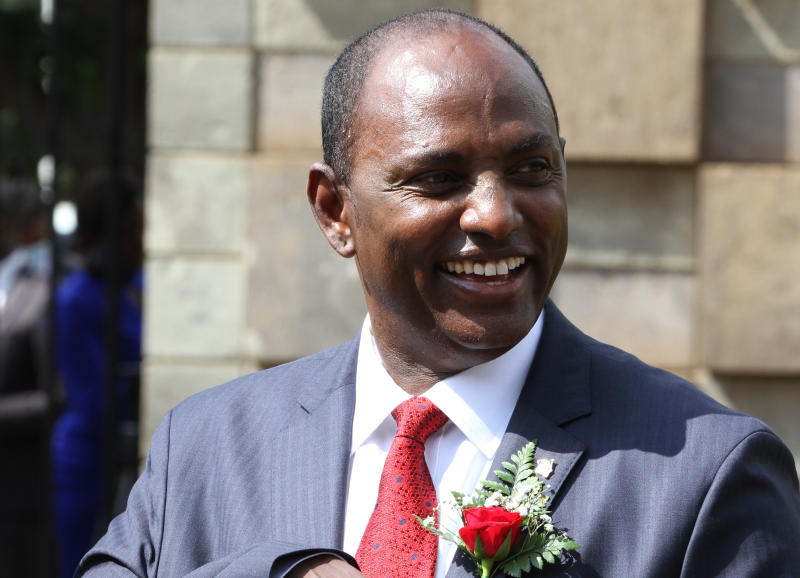 It is just before 7.30am when I'm ushered into his office. He smiles pleasantly as he greets me. His assistant pours us some tea as we exchange pleasantries.
The furniture in his office is exquisite, the wood polished to a high shine. The walls are cream-coloured, interspersed with wooden panels and the obligatory presidential portrait hangs high up on the wall, above two large flags - the Kenyan flag and that of the East African Community – on each side of the wall behind him.
There are miniature versions of the flags on his desk with several books, documents and stationery on it on the opposite edge. A toy excavator and a bunch of business cards break up the bunch of documents.
"I am just from a meeting," he says as he puts away the day's newspapers and places his arms on the desk in an anticipatory gesture, ready to begin. He looks very business-like; dressed in a white shirt, red patterned tie and a silver watch adorns his left wrist. It is early, but that is nothing unusual for him.
"If I am not here before 6am, it becomes terrible. Like this weekend I was out of office. That is why you see all these files here," he says, pointing to a large stack of files on the left side of his desk. "You cannot cope with the kind of workload unless you make it here early and leave late, work on Monday to Sunday," he says.
With such a packed schedule and a desire to keep family at the forefront, he brings them along for the wild ride whenever he can. He recently surprised Kenyans when he showed up to read the budget in Parliament with his sons and nephew in tow.
Family and marriage
Take a quick survey and help us improve our website!
Take a survey
He smiles to himself while scrolling through pictures of them on his phone and, sensing my curiosity, says; "I like them a lot. I see pictures of them and get excited. Like on that budget day," he says, showing me pictures of them taking turns on his seat behind his desk to take pictures.
"It was a very unique occasion for us, as much as it was for the country. We like doing things together as a family. My children are part of me and part of even my official work, although of course there are limits," he says.
He has two sons, Ibrae, 23, a lawyer, with a Masters degree in Commercial Law, and Ali, his second born, just finished his first degree in Business last month. He also has an adopted daughter, Nasibo, who is in the US.
"There is nothing as important, as useful, as valuable as family. Family is everything. It comes before your job, before everything, because that is the only fall-back you have," he says.
"There are times of good, there are times where things are not good. You will appreciate your family when maybe you are sick. There is no substitute in difficult times. When something befalls you, it affects the family directly. When you are not happy, they family is not happy, and when you are, so are they. So the family is the nerve centre of an individual."
He and his wife, Dr Gumato, met when they were children. They were engaged for 12 years before getting married when he was 28.
"We grew up in the same village, the same neighbourhood. Met as children. We were a very traditional community, and still are. You can only remotely say maybe you want to marry that lady. The rest of the deal is done with the parents. My parents go to their parents and talk about it. In our community you do not engage with each other until you marry. So you know so and so is in this school and she is going to be married by so and so at a given time," he says.
Yatani is Catholic, but where they are from, a wedding is not complete without a long traditional ceremony that involves the exchange of camels, so that is what they had.
When the children were young, he would take them to and from school and play badminton and football with them over the weekends. Now they are grown up, but his current job does not leave much room for fun activities and he wishes he had more time. He used to play volleyball and table tennis back when he had the time, and will occasionally seek out places to play the latter, but that doesn't happen often.
With one of the most sensitive jobs in the country, the stakes are high. He got the job in July 2019 when his predecessor, Henry Rotich, was sacked. He was entrusted with rescuing a flailing economy, and with the spotlight squarely on him, he was filled with trepidation.
"When I was first appointed to this office in acting capacity, I was happy and sad at the same time because of the burden of trust. It over-weighed me," he says, taking a long pause, picking up and briefly fiddling with the toy excavator on his desk, before resuming in a contemplative voice.
"I felt the weight and I was really feeling strangely because it is not an easy job. It is a tough calling. When you get this job, the President has given you a very tough position and he must have considered many, many attributes, one of which is that is that he trusts you. That really devastated me. I was more concerned about what happened if I failed. I didn't have the words. I just prayed that I wouldn't let him down," he says.
By the time he was confirmed as the Cabinet Secretary of the National Treasury, he had overcome the fear, having hunkered down with focus, working hard with what he says is a good, competent technical team.
"I don't think too much about what happens tomorrow. I just deliver what I can do today," he says. This attitude has served him well in his journey to the top.
Growing up
Yatani was the only one of his seven siblings and seven more step-siblings to go to school. His going to school was a sign of the changing times, as his community (the Gabra, which has about 100,000 members today) did not believe in sending children to school when his elder siblings would have benefitted.
He was the second-last born, but his younger sister was not as lucky – education for girls was even less probable then.
He was in boarding school from the age of seven, courtesy of missionaries who moved into the area and took it upon themselves to school the children of the constantly migrating nomadic community, whose families would sometimes be as far as 300km away. And then thanks to a Jomo Kenyatta Foundation scholarship, he went to Garba Tulla High School, then to Kabarnet High School for A-levels, and eventually graduated with a degree in Economics from Egerton Univerity.
The late North Horr MP, Bonaya Godana, would be his guiding light from university onwards. Yatani practically grew up in his shadow, emulating him.
"At university, I had a lot of admiration for my Member of Parliament, the late Bonaya Godana. He really inspired me. He was very sharp, committed and with same background as me, shaped by adversity," he says.
So Godana mentored him, watching as the young Yatani became District Officer in 1992, then District Commissioner in July 2002. Godana unfortunately wouldn't get to see his protégé follow in his footsteps. He died in a plane crash in April 2006.
"When he passed on we were devastated, and naturally because I had grown up in his shadow, the community told me they needed me to fill his position. So I became the MP in a by-election," he says. "That is what really changed the course of my life."
It was all uphill from there. After that, he briefly became the assistant minister for Science and Technology, then President Mwai Kibaki appointed him ambassador to Austria.
He was Kenya's Permanent Representative to the United Nations, Vienna and for two years was a board member of Atomic Energy Agency where most of his work was on nuclear power.
With the change of the constitution, he came back in 2012 and was elected the governor of Marsabit, Kenya's biggest county. He lost his bid for a second term in 2017 to current governor Mohamud Ali. In 2018, Ukur was appointed Labour CS before becoming acting Treasury CS in 2019.
It is impressive by most standards, and is the kind of thing that would go to a lot of people's heads. I don't allow power to intoxicate my mind. I take every assignment as a calling to serve and to better the lives of others. That is what drives me because I know God has done a lot of me and has continued to use me to better the lives of other people who are not as privileged. Otherwise how do you explain my life from that kind of background - a very difficult upbringing?" he says.
Driving philosophy
I ask him what it takes to be so successful in so many different areas and he doesn't miss a beat explaining it.
"Whatever you take, give your best. Work hard without expecting promotion or money. When you give your best, all that will fall in place. Someone will recognise that you play a critical role for the success of the institution you are in," he says.
"There is no substitute for hard work and honesty. Also, don't lose track of your humanity. Don't look down on anyone. Take every position as a position of service, not for your own self-actualisation but for the purpose of serving the less privileged."
When he retires, he plans to ramp his charity work. He started a charity foundation twelve years ago, paying forward what was done for him to enable him go to school, the Kanacho Nomadic Educational Foundation.
"We have done community projects, but more importantly, we educate students from very difficult backgrounds like ours. Last year we educated about 250. I took about 300 students from Form One up to Form Four, paying their fees. Right now they are about 100. I get support from my friends, and part of my salary goes to the foundation," he says.
He has one last thing to say before we part ways, which he never lets himself forget and that is useful life and career advice.
"I consider that there are many other people who have better qualities than me, so why me? If I forget about the element of serving and use it as an opportunity to enrich myself, as an opportunity to just feel good without translating to service, I will have failed. That is what motivates me."