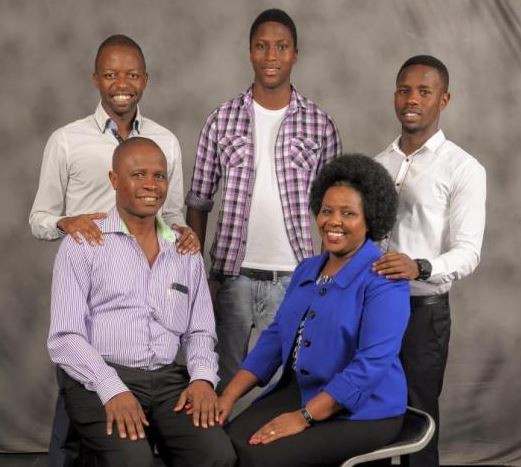 A month from now, July 29, will mark one year since the untimely death of Bomet County's first female governor, the late Joyce Laboso, who succumbed to cancer.
Hours after doctors switched off Laboso's life support machines, her husband, Edwin Abonyo, who spent years working behind the scenes, warmed his way into the hearts of Kenyans with his heartfelt speeches and wonderful memories of his beloved.
Almost a year down the line, the father of four opens up about his life after loss and how he and his children are coping. He says some days have been harder than others, but they are doing just fine.
Abonyo describes himself as a simple man from a humble background, born of Christian parents: "I like working and have a passion for farming. I try to exercise kindness and compassion whenever possible to the less fortunate in our society."
He remembers his late wife fondly, recalling how and where they first met. "When I first met her, I never looked back. She was beautiful, amiable, witty, and very polished. With time, her kindness and presence of mind, not to mention her simplicity, made me know she is the one," he says.
Read More
The two met through her cousin. At the time, Abonyo was working as a tea estate manager. "Whenever Henry (Maritim, Joyce's cousin and Abonyo's friend) would go visit his uncle Mr Fredrick Laboso (Joyce's dad), I would accompany him. It is there that I got to meet Joyce."
When cancer struck
Their love story blossomed, and then cancer struck in 1991. "I was shattered and devastated. It was like life had come to a standstill. But of course, I had to be strong for her and for our small children then. And she battled it and we succeeded," he says.
This battle with cancer changed the life of the young family. Joyce went through months of chemotherapy and radiotherapy which left her "very sick"; losing hair and weight. Abonyo says even her skin darkened but in the end the cancer was eliminated.
"There were a few realities that set in after that, one of them being her inability to bear more children - which we accepted and were OK with. Another being her health management practices thereafter," he says.
The monster was to, however, come back to haunt the family years later. "I felt heartbroken, it was very devastating and beyond comprehension. I cannot sufficiently describe in words how I actually felt. She was in the USA and called to share the results of the test. Upon her return, I put aside my issues and commitments and focussed on her," says Abonyo.
This meant having to start treatment again. Abonyo says they had a lot of support from friends, family and politicians across the political divide. "We live by faith. We were there for her and for each other. One of our sons also left employment in Australia and joined us at home. New technologies and approaches to cancer treatment had come into play and this gave us hope. But most of all, we prayed," he says.
Despite everything, however, this time Joyce could not beat the cancer and Abonyo remembers the moment when they knew that this was it. This was where it ends. "The doctors called my children and I for a conference and we went through counselling. It was then that we knew we had reached a dead end and prepared for the worst. Subconsciously, this eventuality lingered."
Then the time they all feared came. "Over time, during hospitalisation and as her condition deteriorated, we shared a lot. By and by her conversation lessened and was barely audible and became incomprehensible, until there was no communication. 'I love you" was standard and my usual greeting and her response was 'I love you too'. Our children shared the same expression and assured her of their unmitigated love. When she ceased talking, her eyes still reflected love."
Despite their loss, the family remembers Joyce fondly and remain thankful for the times they had together. Abonyo says it has not been rosy and they still miss her and "interludes of sadness occasionally creep in", especially, during any anniversary or days like Mother's Day, weddings and funerals.
"I miss a mate, a friend, a mother to our family, a partner in life and a truly inspirational leader who genuinely wanted to bring about change. She was the voice of reason in our home and would in her perfect style calm any tensions in the family," he says, adding that he has on occasion broken down.
The children are "equally affected and I believe they react just like I do. They are all trying their best to move on, make her proud and adapt this new normal. Mother's Day was particularly hard this year for them, but they got through it. They are looking forward to the first anniversary and hopefully we will be able to travel home to commemorate it."
He looks back at life without the late Joyce and says it is a situation that you would not wish anybody to go through.
Her entry into politics
The family was known mostly because of Joyce Laboso's career in politics and Abonyo remembers this phase of their life quite well. He says Joyce's entry into politics was purely accidental after the death of her sister, the late Hon Lorna Laboso who died in a plane crash.
"When the people of Sotik spoke, what we heard was that they wanted it to stay in the Laboso family and since they had already selected a female MP, it was obvious that Joyce would carry the mantle. Even though she was never a typical politician, she had strong leadership abilities so we all knew she would perform extremely well," he says.
Abonyo says the family was at home with the decision and considered himself her biggest fan, supporting her from the sidelines and even being in-charge of her campaigns.
Then came her gunning for the gubernatorial seat in Bomet, and the drama that came with it. "We would joke about some of the negative press and the lewd remarks that were thrown at her, or even the fact that she married out of her tribe. Joyce was very candid, forthright and firm," recalls Abonyo.
He says that despite being quite confident of a win, there we occasional jitters: "I could feel it (that she was going to win) when going around and engaging the electorate, but of course occasionally butterflies would set in." When she finally won, he says, it was a historical moment and one that "we will treasure for years to come."
Her position as a governor, he says, did not change the life of the family very much. "Our children are all grown-up and doing their own things. As a family we lead a very simple and contented life. I continued with my business in Nairobi and Joyce focused on Bomet. The glitz and glamour that came with the governor's office notwithstanding."
Life after Joyce's demise
Abonyo says the family has been coming to terms with the loss and finding themselves again. He says he has a good support system of friends and family and also keeps himself busy with his construction company work and farm management.
"His Excellency the President appointed me to sit in the State Corporations Advisory Committee, and this was a huge honour. It is an exciting and new role in governance with a joint oversight role that has exposed me to new horizons," he says.