A-Z of making good cash from rearing kienjeji birds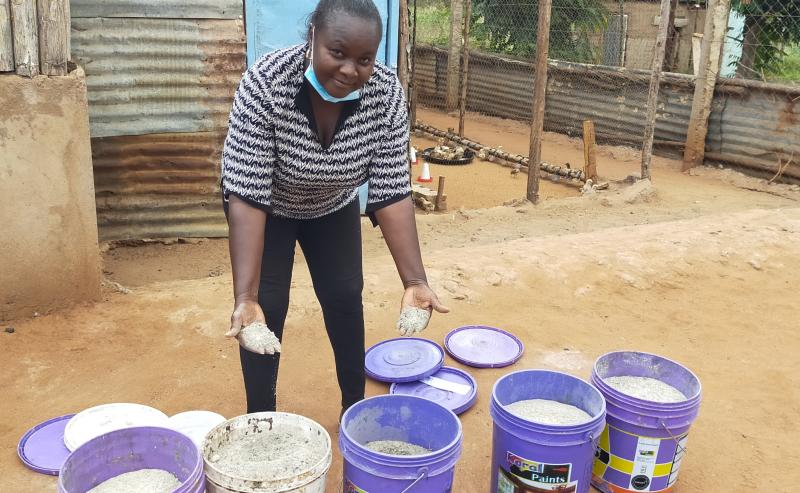 At Gladys Kivoto's farm in Mwala village in Mutomo, Kitui County, five birdcages stand side by side, each holding kienyeji chicken at different stages of life.
The youngest of these are 50 three-day-old chicks that have just been separated from their mother while the oldest birds are in cage five, at five months old, which is the final stage before they are sold.
In this poultry farm, everything is calculated to detail to ensure that chicken at different stages do not mix, in a bid to ensure the right vaccinations and feeding.
Cage one holds chicks that are between day one and seven, while cage two is for those between one and three weeks.
From cage two, they are transited to cage three when they are between three weeks and one month, after which they are moved to the next cage where they stay until they are three months old.
From here, they are moved to the last enclosure where they stay until they are mature enough to be sold - at five or six months.
"The separation is to ensure that in case of a disease, they do not infect each other. It also makes it easy to administer vaccines and feeds because different age groups have different needs in terms of feeds and drugs," explains the farmer.
At cages one, two and three, when the chicken are at their formative stages, the units are fitted with feeding and watering troughs where they are looked after strictly without venturing out.
However, at enclosures four and five, which are spacious enough for free roaming and fenced with chain links to ward off predators, the birds, which are now big enough, are allowed to feed on free range. They are, however, routinely supplemented with homemade feeds.
In each of the two sections, sizable holes have been dug and fed with dry maize cobs and dead pieces of woods. A little water is then added.
"This is meant to trigger production of termites which are a delicacy to the chicken. Because they are on free range, they don't consume as much feeds as the other lower stages. We are keen to ensure that we get the pure kienyeji while maintaining its good taste," says the farmer who runs the venture with her husband, Mike Kivoto.
Since kienyeji chicken are slow in breeding due to the time it takes a hen mother to look after its chicks, the couple has come up with a creative way to ensure constant hatching of chicks.
They do this by ensuring that a hen that hatches its eggs is immediately separated from the chicks and given another set of eggs to sit on. At any one given time, there are at least 15 hens sitting on eggs in the hatchery, each sitting on 12 eggs. The hatchery has capacity to hold 31 birds at a go.
"After the layers lay eggs for a few days, the eggs are collected and given to hens to sit on. The sitting hen is not necessarily the one that laid the eggs. After they hatch, the chicks are taken away at least three days after to make the mother easily forget them. The mother hen is then given another set of eggs to sit on," says the farmer.
She, however, says that a hen can only be allowed to hatch eggs for only three consecutive times before it is disposed of. The sitting hens are fed well because of the long periods they spend on the hatchery, she says.
Started in December last year with only 27 birds, the venture which the couple describes as lucrative and fulfilling has grown in leaps and bounds and currently boasts of 450 birds at different stages. Those in stage four - at two months old - are 95 while enclosure five holds 162 birds. The chickens are sold when they are between five and six months old at between Sh600 and Sh800 each.
Three weeks ago, Mrs Kivoto sold 120 mature chickens and walked home with a tidy sum. But she says this is just the beginning; in the near future she wants to raise her flock to 5,000.
However, the couple says it was not smooth sailing at the beginning as most of the newly hatched chicks died in droves as a result of diseases. That is until they got training on chicken diseases and vaccine administration from Kenya Agricultural and Livestock Research Organisation (Kalro) in Kibwezi, about 70km from their home.
"We have a chart that shows what vaccines to administer and at what stage. This has solved the disease dilemma. If you get the vaccines right, then you are assured the birds will grow to maturity," says Mr Kivoto. He reckons that poultry diseases such as Newcastle, Fowl pox, Avian influenza and others are a big threat to kienyeji chicken farmers in Kitui County.
"The challenge is on the availability of the vaccines and how to handle them. They need to be refrigerated to maintain their efficacy," he adds.