Clash of egos in Mt Kenya as governors row with deputies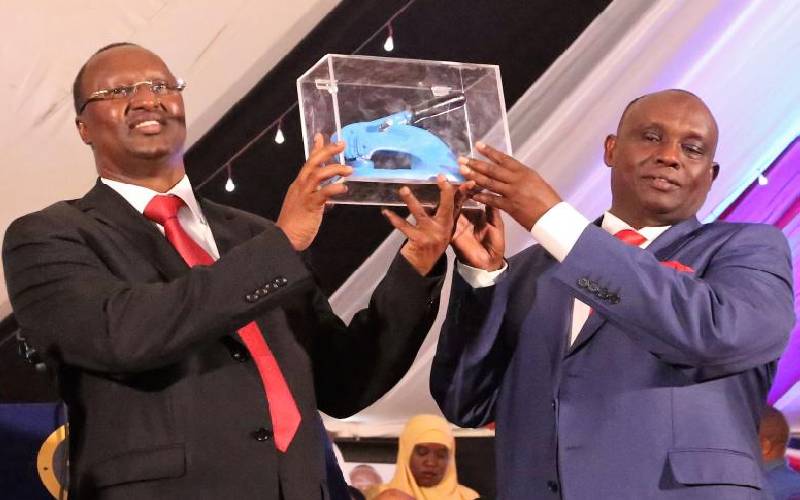 A revolt is building up in the Mt Kenya region where four governors so far cannot see eye to eye with their deputies. The deputy governors appear emboldened by the Kiambu County scenario where one of their own had the last laugh after a public tussle with his boss.
James Nyoro, now governor after the impeachment of his boss, Ferdinand Waititu, alias Babayao, underwent a baptism of fire under his streetwise boss before emerging triumphant. Waititu was impeached this January.
Now three other deputy governors are locked in a clash of egos with their bosses.
In Isiolo, the working relationship between Deputy Governor Abdi Issa and his boss, Mohamed Kuti, deteriorated so much that Issa was removed as Health executive.
The two medics might need an antidote for their relationship as, according to insiders in the county administration, they are not even on talking terms.
Murmurs begin
Kuti had picked his deputy, who like him is a medical doctor, to head the rundown department of health. Issa was tasked with breathing life back to the docket.
However, less than a year into his post, and after Issa embarked on reorganising the docket, murmurs began that he was targeting staff members from certain clans that had backed the Kuti ticket in the 2017 elections.
Within no time, it became clear that it was only a matter of when, and not if, the relationship between the two top county officials would take a beating.
In June 2018, Issa was stripped of the Health docket during Kuti's first Cabinet reshuffle.
At first, the deputy governor took this in his stride, saying it was the governor's prerogative and that it would give him enough time to concentrate on his deputy governor job.
A few months later, however, the gloves came off, with Issa attributing his woes to the reforms he had initiated in the department. His removal from the Health docket, he claimed, was corruption fighting back.
"Corruption is rife in this government and only those (staff) who play ball survive," he said.
After that, Issa seemed to steer clear of the limelight, only presiding over a few public functions. He was rarely seen at his office.
However, Kuti's political advisor, Ali Galgalo, denies that the relationship between Issa and Kuti has gone south.
According to Galgalo, the deputy governor's powers are still intact and were not affected when he was stripped of the Health portfolio.
"The removal of the deputy governor from the helm of the health docket should not be misconstrued to mean their relationship is sour," said Galgalo.
"Dr Issa is the deputy governor of Isiolo and he gets the preferential treatment and respect that goes with the office."
Galgalo further denied that Issa and Kuti's rivalry may have sparked clan politics.
"People from the deputy governor's clan have been given jobs as county executives, chief officers and are represented at the County Public Service Board. No one is marginalised," he said.
In Kirinyaga, Deputy Governor Peter Ndambiri had such a fraternal working relationship with his boss, Anne Waiguru, that the two were a common feature in public functions.
Then in April this year, the two suddenly stopped appearing in public together. Soon after, Waiguru's supporters began demanding that Ndambiri resigns after accusing him of being behind the plot to impeach her.
A defiant Ndambiri refused to step aside, saying he does not serve at the pleasure of his boss.
"We were elected together with the governor and given a five-year mandate to work for the people of Kirinyaga; we are joined at the hip like Siamese twins," he declared.
If the Senate endorses the impeachment of the Kirinyaga governor, Ndambiri will be the new county chief. If it fails, it will be interesting to watch how the two will relate going forward.
Governance issues
In Tharaka Nithi, Deputy Governor Francis Kagwima said he fell out with his boss, Muthomi Njuki, over governance issues and budgetary allocations.
Kagwima was also relieved of his duties as Trade executive.
Political observers say this marked the turning point in the relationship between the deputy and his boss.
"Kagwima is a two-term MP of Tharaka and a former assistant minister. He is a grassroots person. Being sacked as an executive did not go down well with him," said a person well versed with the two top county officials.
Kagwima, who concedes he is unlikely to be in the same political camp with Njuki in the 2022 poll, said what drove the final nail in the coffin for him was when he sought for a separation of the budget for his office from that of the governor's.
Naftaly Kirea, a communications officer in the governor's office, denies the Kagwima was humiliated when he was left without a portfolio.
"He has other duties as deputy governor. Each has their responsibility. It is the prerogative of the governor to decide who works where," he said.
The love-hate relationship between deputy governors did not start with the 2017 poll.
Some time after the 2013 poll, the then deputy governor for Murang'a, Augustine Monyo, turned up for work to find his office, which was next to the governor's, torn apart.
Today, Monyo, says a fallout between any governor and his or her deputy is usually inevitable, citing his fallout with his boss, Mwangi wa Iria.
"I can tell you that no matter how well a governor starts the journey with his deputy, none allows you to have a hand in Cabinet and chief officers' appointments because that way you would have people loyal to you and not him," said Monyo.
[Additional reporting by Ali Abdi and Phares Mutembei]
Laundry or watchdog?
Contest between allies of ODM party leader Raila Odinga and Deputy President William Ruto plays out during the stormy session