Rwathia's sleepy ridges that birthed Kenya's top tycoons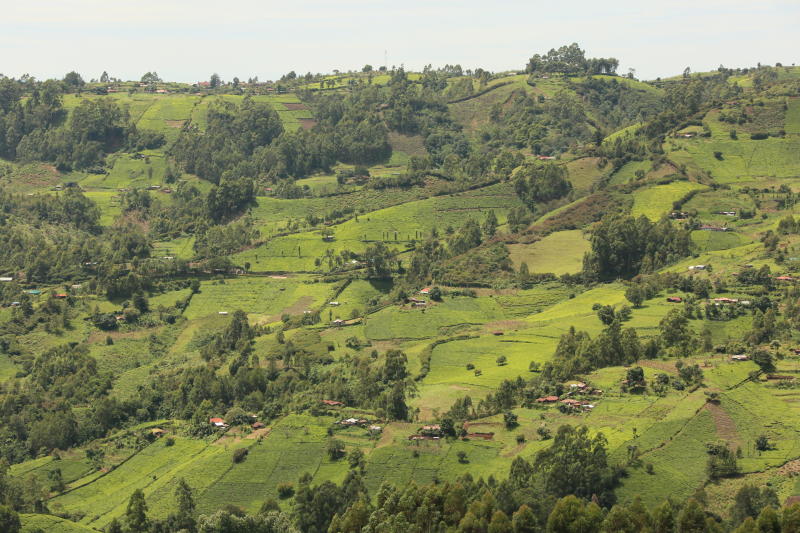 On a clear day, the picturesque Aberdare ranges watch over the rolling tea farms in Rwathia, Murang'a County.
Here, the shopping centres are largely deserted, save for a few boda boda riders and young men idling around.
"Most of our young people left for the city where they believe there is treasure. It is an old village custom," says an assistant chief, Paul Karenju.
The real treasure of Rwathia lies in her sons. From these sleepy ridges come some of Kenya's most shrewd businessmen and tycoons.
It is home to the Equity cousins - James Mwangi and Peter Munga - who started a small building society in 1980s and grew it into a bank with branches beyond Kenya's borders.
Dr Mwangi's net worth in Equity Holdings alone is said to be Sh5 billion. He also owns a substantial stake in Britam worth at least Sh10 billion.
His cousin, Munga, who retired recently as Equity chairman has vast investments including Pioneer University, Pioneer Schools, Equatorial Nuts and a pole treatment plant.
Other than the Equity cousins, Rwathia is also home to billionaire Gerald Gikonyo who chairs Rwathia Holdings, which owns a chain of properties in Nairobi, Murang'a, Kajiado, Kiambu and Machakos.
From the larger Rwathia comes industrialist Chris Kirubi, investment banker Jimnah Mbaru, Britam's majority shareholder Benson Wairegi, the late city tycoon Gerishom Kirima and the late John Michuki.
Michuki, who owned Windsor Golf and County Club and Cargen House, among other properties, is said to have been a key player in the rise of Rwathia tycoons.
Michuki's hand
A long-serving government technocrat, Michuki was the Permanent Secretary for finance and earlier on, Commerce and Industry during the era of Africanisation of Kenya's economy and capitalisation of indigenous-owned enterprises.
It was around this time when the Rwathia billionaires were molded, albeit from very humble beginnings.
Dozens of humble fruit and fresh produce vendors pooled their meagre earnings to found the Rwathia Holdings Group, which today is worth billions of shillings.
Driving through Rwathia and walking on its dusty paths, the feel of power and money lurks in the tea farms and alleys of its sleepy shopping centres.
"We count ourselves among the luckiest and richest areas in this country," says boda boda rider Joseph Macharia, 30, who we met at Rwathia market.
A 40-kilometre loop of tarred road network off the Kangema-Kiria-ini-Othaya-Nyeri highway built during the hey days of Michuki connects most of the main markets in Rwathia ward.
Branching off the highway at Mihuti, it heads to Kenya Njeru looping back through Rwathia-Kiawambogo-Wanjerere and Kihoya.
Between Rwathia and Kiawambogo, especially after Kaharo tea leaf collection centre, white walled villas with dark and maroon tile roofs loom on either side of the disintegrating rural road.
The towering chimneys are unmistakable, the satellite dishes and steel gates incongruous with village life. Once in a while, a shinny solar water heating system gleams on the roof.
"Welcome to the Muthaiga of Rwathia. The homes of our elites start here," says Grace Nyambura, 60.
Locals are guarded while speaking to strangers about their rich sons. But they are unanimous about one thing - that their sons worked their way to success.
"They are self-made men who made their money pure and clean and Rwathia is deeply proud of that," says Mr Karenju.
"It is all hard work," says John Mwangi (pictured), a livestock broker at Kenya Njeru market.
The villagers only differ on how Rwathia's success story has paid back.
At Rwathia market, a group of boda boda riders argue that Rwathia Holdings, which has many subsidiaries including Mathioya Distributors and New Rwathia in a complex shareholding structure, has employed more people from the area than the behemoth that the Equity cousins built.
"Most of our youths in Nairobi work for Rwathia Holdings and many locals have made their fortunes from the company," says Joseph Macharia.
As the old generation of Rwathia investors exited the scene, most of the partnership's properties in Nairobi have since been passed down to their descendants.
But the company has retained the businesses in a novel formula that has given it continuity and ensured that monthly returns continue to flow to the descendants.
Still, despite its millionaires, Rwathia also grapples with its share of challenges.
"Our water supply is poor, sometimes we only get water three days a month and still have to pay a standing charge of Sh500 per household," says Macharia.
"I won't say the ordinary mwananchi has a lot to speak of because affluence does not just rub on you when your neighbour gets rich," says Mwangi.
Rwathia's billionaires might not live in these sleepy ridges, but their hand is visible in a number of community projects in the area. Besides, only a fool can ignore their political clout in these rugged terrain.