Doctor Aluoch gets it off his chest in an autobiography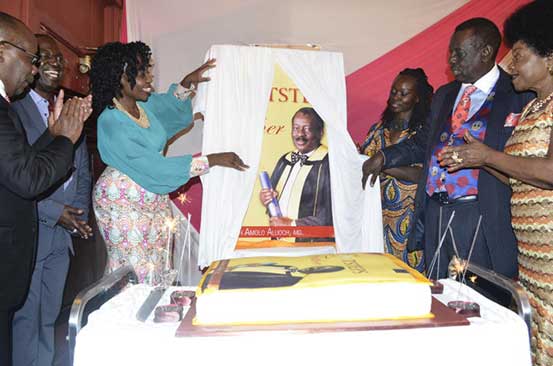 NAIROBI: Medical practitioners are often very busy people. Most times they are in hospital consulting rooms listening to patients' tribulations or rushing from one ward to another to attend to patients.
Due to the nature of their profession, we hardly associate doctors with any other skills other than those related to stethoscopes, thermometers and scalpels.
We certainly do not imagine that they would have the time or energy to tell stories. It is therefore always fascinating to find a doctor who can weave and tell a story.
The archives of Kenya's history and the corpus of Kenyan autobiographies, particularly those by medical practitioners, have recently received a boost by the publication of Dr Joseph Amolo Aluoch's autobiography, In the Footsteps of My Father (2015).
Dr Aluoch is a leading chest specialist in Kenya. He is married to Lady Justice Joyce Aluoch of the International Criminal Court.
In the Footsteps of My Father pays tribute to the author's father, Wilson Aluoch, a medical assistant in colonial Kenya, whom the author says influenced his life in many ways especially in his choice of a career.
An alumnus of Maseno School, Kakamega High School and Makerere University, Dr Aluoch was part of the early crop of educated Kenyans who would serve the country immediately after independence.
Reading his story therefore gives one a sense of the developments in the country before and after independence. His book gives a detailed account of the history of the faculty of medicine at Makerere which he joined in 1963.
Dr Aluoch's is a professional autobiography and his narration of the development of independent Kenya is tied to his growth in the medical profession, both in public service and in private practice.
He documents his extensive experience in research, particularly in chest medicine, culminating in his being christened the father of lung medicine in Kenya.
He places immense value in education, regardless of the discipline that one chooses to pursue. His conviction seems to be that what people need is industry, patience and discipline in their chosen careers/professions, values which his autobiography emphasises time and again.
The author recalls the beginnings of HIV and Aids in Kenya and the first reported case in 1984. He was directly involved in the case since he was in charge of communicable diseases nationwide and at the Infectious Diseases Hospital in Nairobi where all tuberculosis patients were admitted.
He notes that the slow transmission of information and misinformation regarding HIV and Aids, largely contributed to the fast spread of the condition in the early 1990s.
In addition, he records the history of tuberculosis in Kenya and the milestones that medicine has made in diagnosis and treatment over the years.
He uses his autobiography as a kind of teaching platform to address some of the challenges that medical practitioners face in managing HIV and Aids and in the prevention of cholera.
Dr Aluoch is also concerned about professional ethics in medicine. He worries that changes in the society have affected the medical profession such that some have turned it into a business and some doctors openly ignore the Hippocratic Oath.
He expresses his distress at the fact that a profession that was traditionally a calling has become a money-making venture, with medical practitioners advertising their services, something that was unheard of just a few years ago.
Is it any wonder that medical care has become so expensive? He addresses the question of doctor-patient relationships, noting that while it would have been near impossible for doctors to have intimate relationships with their patients, society has become more liberal and social and professional distance is not necessarily observed today.
The writer candidly explores the relationship between practitioners and pharmaceutical companies, noting that this ultimately affects patients because marketing affects physicians' practices.
He notes that physicians may be unduly influenced by personal interests to prescribe drugs from particular companies even when they are not necessarily the best or the most affordable.
The all-important questions this issue raises are: are patients protected from the interests of manufacturers? What is the morality of the marketplace and how does it affect patient care?
He notes the increasing conflict between duty to patients and economic self-interest and chastises physicians who have been too preoccupied with the demands of the practice to give enough thought to the social role of their profession or its ethical foundations.
In his words, "medicine is a personal and caring profession, not a license to make money by investing in health-care or by selling medical goods."
He however notes that the drawbacks in Kenya's public healthcare system, which need to be urgently addressed, are what often make private medical practice a necessity.
Dr Aluoch also addresses the controversial topics of abortion and euthanasia and alludes to scientific research to support his conviction that these subjects need to be approached with sobriety and adherence to well-thought through codes of practice.
Expressing his views about the future of medicine in Kenya, Dr Aluoch is convinced that since healthcare is changing, physicians need to change their approach as well. They can no longer afford to work in isolation but in multidisciplinary teams so that they can take care of the emerging multiple illnesses.
In the Footsteps of My Father reveals an author who is not only committed to his profession but to his country and family too.
His is not only a personal story but a national one as well and an invaluable source of information on Kenya's health sector.
With the current disorder in the health sector, with strikes several counties, the issues that Dr Aluoch addresses should make the concerned offices rethink the provision of healthcare.
Indeed, his unstated call for medics to retrace their steps to the core values of the profession might just be what we need if Kenyans are to access affordable medical care easily.
But this can only be done if the government seals all avenues of corruption and deals with the rot in the public health sector.
This 72-year old son of Gem Ka'Gilo, in Siaya County can certainly tell a story.
The autobiography is not just the story of a chest specialist but one of an elder, a father, husband, friend, and a non-practicing teacher, and it has which has lessons for all, regardless of their age, gender, or profession.
Dr Aluoch's story is an apt prescription for our social, moral, and intellectual ailments.
The writer teaches Literature at the University of Nairobi. [email protected]