Lupita laughs off CS Balala's claims she could not be reached in 5 years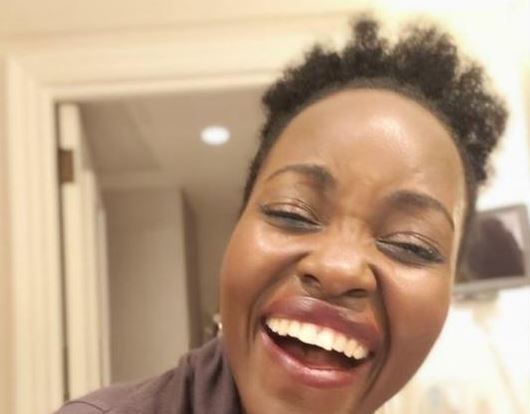 Oscar-winning Kenyan actress Lupita Nyong'o has laughed off claims that she was unreachable when the country was seeking Magical Kenya's international brand ambassador.
Yesterday, a local daily quoted Najib Balala, the Tourism Cabinet Secretary as saying that his ministry had tried to reach out to Lupita (pictured) for five years to appoint her as Kenya's tourism ambassador but she could not be reached.
British supermodel Naomi Campbell was appointed to the role and a section of Kenyans was, with some suggesting that several Kenyan personalities, including Lupita, could have been given that task.
"Me when I hear the Kenyan Ministry of Tourism has been looking for me for five years. #Imrightherebaby #alternativefacts," she posted on her official Twitter handle, creating a fresh online debate on an issue online Kenyans had forgotten.
Last week, at Kenyatta University, Balala said they had not settled for Lupita for the branding role because she was too busy with other engagements.
"I know everybody is asking why not Lupita. Lupita has commitments and her managers cannot allow us to access her. We've spent the last five years looking for Lupita," Balala said.
International links
Balala went ahead to note that his Ministry makes appointments while targeting specific markets.
"We can have one of our own, and we already have Eliud Kipchoge. We are targeting specific markets and sectors, so we will identify brand ambassadors because of that. We use Kipchoge to market Kenya because of his vast international networks," the CS said.
While justifying the appointment of the 50-year-old British supermodel about two weeks ago, Balala said Campbell was well-positioned to help market Kenya as an ideal tourism and travel destination.
"We welcome the exciting news that Naomi Campbell will advocate for tourism and travel internationally for the Magical Kenya brand," he said in a press statement following the signing of the deal in Malindi where Campbell was holidaying.
"I am impressed with the world-class standard facilities at the Professional Golf Association (PGA) Baobab course located in Vipingo Ridge, the only golf course credited by the PGA in the whole of Africa. I invite golf professionals globally to visit the course to enjoy the experience," Campbell said.
The appointment of the Briton who visits Kenya almost every year, drew criticism from a section of Kenyans who felt the role should have been awarded to a celebrated Kenyan.
"What value will Campbell bring? Why not choose people like Lupita and other notable Kenyans?" wondered one Alphonse Kiama on social media.
However, Balala defended the move noting that Campbell's appointment was a gain to the country and will not interfere with the domestic market.
"Naomi Campbell will be Magical Kenya's International Tourism Ambassador. That doesn't take away from our domestic market, it only strengthens it," he said.
Yesterday, the Saturday Standard tried to reach out to Balala for a comment but he was unavailable.