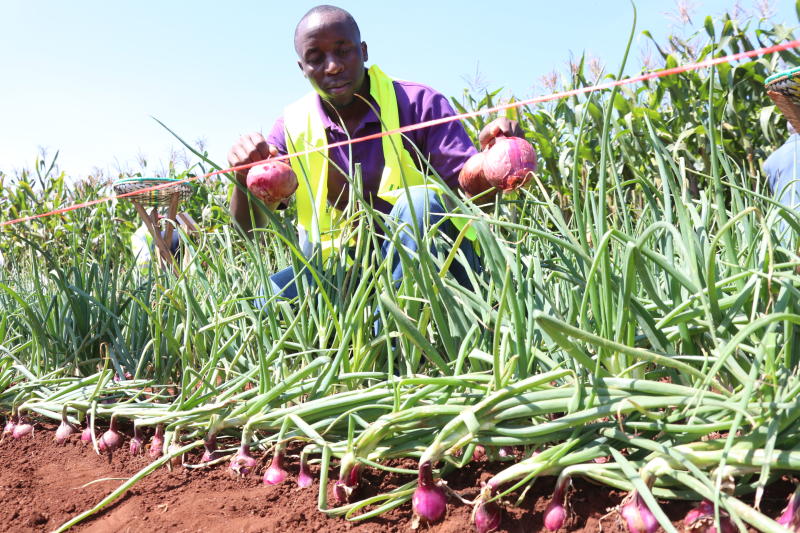 Sweet tasting hybrid kales, organic growth stimulants and new varieties of tomatoes are among products farmers were introduced to during this year's farmers' field day in Nyeri County.
The annual Wambugu Agricultural Farmers Training Centre (ATC) farmers field day offered over 150 exhibitors an opportunity to interact and meet experts.
Among those who showcased new products are East Africa Seeds Company which introduced an attractive kale variety.
East Africa Seed National Sales manager Daniel Mugo said a new breed of sukuma wiki on display had elicited interest from farmers.
"The hybrid Collard (Sukuma wiki) named Mfalme F1 is a combination of Sukuma, sugarloaf cabbage and the end result is a large sweet-tasting green leaves that are not acidic," he explained.
Read More
This crop can be consumed raw in salads, as it is high in nutrients and sweet or as a cooked dish.
"The hybrid is not acidic which means it can be consumed by those who do not like the acidic nature of natural sukuma wiki," he said.
MfalmeF1 can also be harvested all year round as its leaves and characteristics are similar to those of its close relative sukuma wiki. Also introduced into the market were two organic products — a fertiliser and growth stimulant.
"Last year, there was demand from farmers for organic products to help them eliminate most of the chemicals they apply on their plants which is why we developed Vegimax growth stimulant and rapid grow fertiliser," Mugo noted.
His colleague in charge of Agriscope Martin Kiogora said the Vegimax accelerates growth in crops acting as a type of bio stimulant for the crops encouraging them to absorb nutrients.
Kiogora said rapigrow fertiliser is applied into the soil and slowly releases its nutrients throughout the year.
"This is suitable for tuber plants such as potatoes, carrots, onions, groundnuts and beetroots," he said.
A new tomato variety resistant to bacterial wilt and fusarium wilt, was also introduced to farmers.
Zara F1 tomato variety was lauded as an early maturing variety that takes two and a half months to mature from the day of planting while most tomatoes take three months or more to harvest. The variety was developed by Amiran Kenya for the Mt Kenya region market.
Patroberts Wambua a representative of Amiran Kenya said the tomato variety was unique as it could grow outdoors and did not require to be in a greenhouse to produce high yields.