How my Sh40 seed capital bloomed into this profitable seedlings empire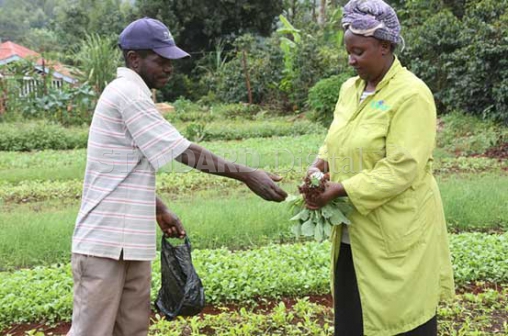 Majority of people assume that to start a rewarding agribusiness venture, you need a big seed capital. Let's say Sh10,000, Sh20,000 or maybe Sh5,000. But one farmer in Nyeri is proving that even with seed capital as small as a mustard seed you can make it happen.
"Believe it or not, I started with just Sh20 that my husband had given me. Now that small seed has grown into this massive seedlings project," Caroline Waruguru tells Smart Harvest at her farm in Kariguini, Tetu Constituency.
Waruguru is now an established vegetable seedlings supplier in Nyeri and has received commendation from the government and several awards for her role in boosting food security in the community.
Ministry of Agriculture awarded her last year for her exemplary farming.
The first steps
So how did she start? Back then in 2000 when she started, Waruguru was a stay-at-home mother and depended on her husband for everything — from household needs to personal items.
"One day, I was going to the market to buy kales to cook for my twin boys who I had just started to wean. With just Sh20, I walked to the nearest groceries but could not find the mboga I wanted. I tried several groceries with no success," she says.
"I was frustrated and angry, and as I walked home empty handed, that day, I resolved I would start my own kitchen garden."
The following day, she borrowed her husband an additional Sh20 and walked to the market to buy kale seedlings to start her small kitchen garden. That is how it all started.
"After my kales seedbed flourished, one of my neighbours visited me and insisted I sell to her my seedlings, I refused since they were for my upcoming kitchen garden. But she eventually persuaded me to take the money," Waruguru recalls.
Unbeknown to her, her kale seedlings would later snowball into a business opportunity she never expected.
"My neighbour told her sister-in-law and she too came to my farm asking for seedlings. I nearly said no but she said she would pay double the price. Before I knew it, I was planting more seedlings," Waruguru recalls.
Now she earns a minimum Sh15,000 a week from her seedlings with a solid client base.
The thorns
But she says it has not always been easy. Starting out, her number one challenge was managing diseases and pests that threatened her crop.
"I often incurred heavy losses but I never gave up. I approached my local agrovet shop and asked him to help me manage some of the diseases," Waruguru says.
Within no time various seed companies sought to help her in growing more seedlings and introduce their products to farmers.
"This is how I perfected my art and gained confidence in the market," Waruguru explains.
Another drawback she faced at the beginning was exploitation by brokers who often refused to pay her.
"I would deliver seedlings to various vendors and they would disappear after that. At one point, they owed me more than Sh8,000 and I decided to find direct market for my seedlings," she says.
To achieve that goal, her strategy was to rely on her network of farmers and clients and it worked.
"Now I never call my clients, they just come to my farm and buy directly. Of course it takes time to have a steady clientele but it is worth it," she says.
An important lesson she has learnt in this journey is that clients determine what kind of seedlings she plants.
"Clients often inform my decisions to expand my business. When they want more that is when I expand. I would then prepare more seedlings for them and this grows demand for my produce," she says.
The prospects
Currently, Waruguru grows more than 100 different varieties of vegetables, trees and flowers on her one and a half acre farm. According to her, vegetables such as kales, cabbage, spinach, tomatoes, green peppers, and onions are the most lucrative seedlings and are always on demand.
The advantage of running a seedling farm as opposed to fully grown crops is that it requires less labour and space. With just a quarter acre, you can comfortably run your farming enterprise and make good profit.
"If you buy 50 grams of cabbage seeds at Sh2,800, you will grow a maximum 15,000 seedlings. However for most farmers only 10,000 seedlings germinate and you can sell each seedling for Sh1.50 per seedling hence making Sh15,000," the farmer shares.
Fifteen kale seedlings are sold at Sh10 while one tomato seedling is sold at Sh5, while these prices may seem low, the profit margins are usually triple the investment.
To maintain consistency in her business, each month Waruguru plants a fresh bed of seedlings.
"As a seedlings farmer, one of my biggest investments has been in water, I have a water pan which collect harvested rain water and a bore hole which I dug to ensure I do not rely on piped water," she notes.
However, it is not always a pay day for Waruguru as there are seasons when the market is dry.
"During such seasons I can make as little as Sh30 a day. However my peak season starts in March as majority of farmers are preparing their land for planting, and this continues till late November," Waruguru says.
Looking back at how far she has come, Waruguru is grateful to God for everything.
"For the past 15 years, I have watched as this garden bloom from nothing to something big. I thank the Lord for everything," Waruguru adds.