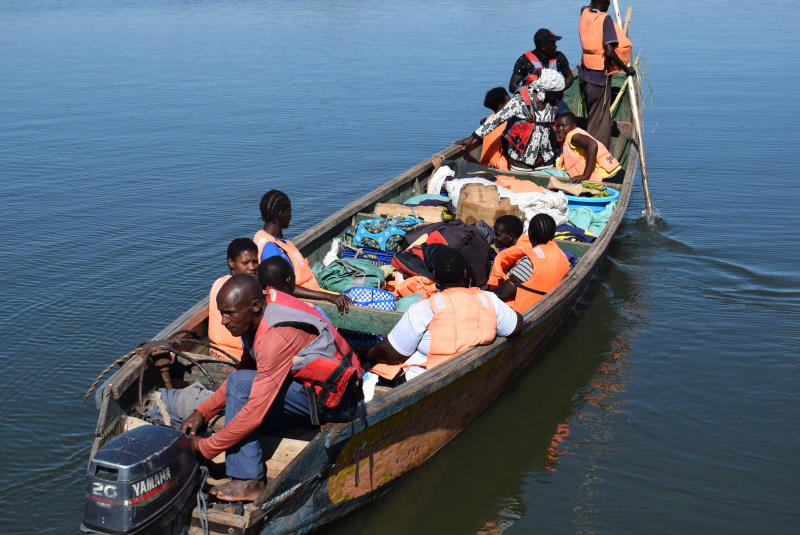 Establishment of search and rescue centres and the creation of a strong communication system between the three East African countries are some of the plans mooted to fight maritime accidents on Lake Victoria.
Transport on the lake has been shadowed by accidents that lead to deaths.
According to the Lake Victoria Basin Commission (LVBC), an average of 5,000 deaths are reported every year in Kenya, Uganda and Tanzania, countries that share Lake Victoria's waters.
Elias Bahanda, an official with LVBC who has been tasked with coordinating the project, said in an interview that improved safety will also boost regional trade. "The project has been endorsed by all the three partner States. Navigation will also be improved," he said.
Kenya will host one of the rescue centres which will be established in Kisumu. Another centre will also be domiciled in Entebbe, Uganda.
The regional maritime rescue coordination centre will however be based in Mwanza, Tanzania. All the centres will be equipped with rescue boats that have medical equipment. According to Bahanda, the project could be ready in the next 18 months.
Old, rickety ships, lack of navigation aids and safety equipment, clogged piers, slow response to emergencies and lack of proper coordination in rescue efforts have fueled the accidents.
The development comes as the partner states step up efforts to exploit the potential of Lake Victoria's blue economy. Kenya has already taken the lead through the rehabilitation of Kisumu Port.
Accidents however still remain a problem in the region's maritime transport. Negligence by boat operators is a major cause of the mishaps.
The three centres will be supported by 22 search and rescue units stationed on the shores and equipped with fast boats for rescue and patrol. Communication system will also be rolled out. Most of the deaths have been reported at night.
Lack of equipment in weather stations also makes it difficult to predict weather patterns in order to take precautions.
LVBC has prioritised the inclusion of modern technology which will help in locating vessels on the lake. Vessel captains will only be required to send distress calls through mobile phones.
So bad has been the situation that barely a month passes without a fishing boat capsizing. Recovery efforts have been slow, taking several days due to lack of equipment and a proper communication system.
Last year, a boat accident claimed lives of 10 people at Honge beach in Siaya County. Some 20 passengers had boarded the ill-fated boat from Uganda to Honge before strong winds and heavy tides capsized their boat deep in the night.
It took almost a day for authorities to rescue survivors. In March last year, another boat accident at Arongo beach, Seme, in Kisumu County claimed the lives of five hospital workers who had visited the lakeside city to attend a burial.
The victims had paid for a boat ride. Residents joined forces to pull the five bodies out using a fishing net.
Although lack of efficient rescue systems contribute to deaths in Lake Victoria, fishermen and other vessel owners are also to blame.
Regional authorities estimate that at least 200,000 vessels operate on the lake, engaging in transport and fishing. A good number of them do not meet safety standards.
A spot check by Shipping and Logistics across several beaches, as well as interviews with officials, established that safety is not considered a priority by boat operators.
During a recent trip to Mageta Island, this writer encountered a near-death experience after the boat had departed Usenge beach. There were no safety jackets for passengers.
While deep in the lake, the boat ran out of fuel and started drifting dangerously from side to side as huge waves rocked it. Passengers held their breath as the coxswain struggled to retrieve a bottle of fuel from the boat's interior.
The accident problem is equally bad in Tanzania. In 2018, a fatal accident involving MV Nyerere that capsized in Mwanza left 228 people dead.