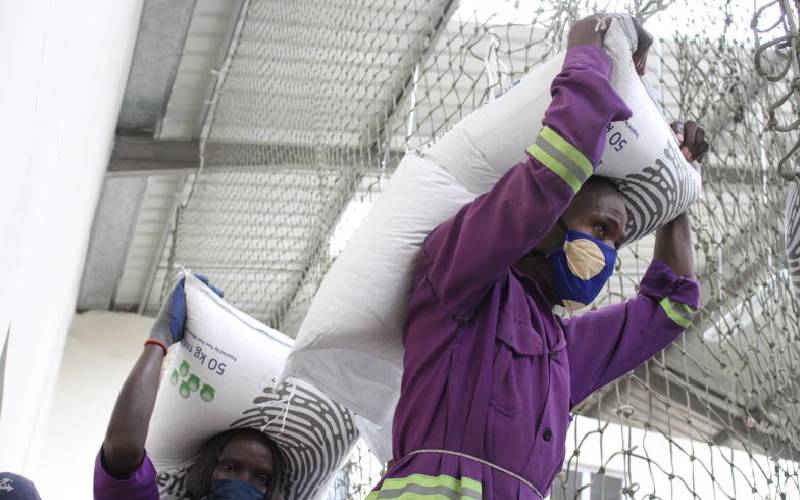 Farmers in Nakuru are set to benefit from Sh46 million subsidised planting and top-dressing fertiliser.
The county government in collaboration with the national government procured 74,533 packets of 1kg bio-fertiliser.
Governor Lee Kinyanjui said the purchase will cushion farmers against the high cost of fertiliser. The governor said registered farmers can purchase fertiliser from the National Cereals and Produce Board (NCPB) at Sh3,000.
The initial fertiliser cost sold for Sh6,000-Sh6,500 per 50kg but large-scale farmers say the move is still not enough.
James Bowen, a large-scale farmer in Rongai, told The Standard he requires more than 500 bags of fertiliser, which cannot be availed by NCPB.
Mr Bowen said the government's intervention came late, considering many farmers have already planted.
"Farmers have endured the pain of purchasing fertiliser for more than Sh6,000 since March. It is a little late to reduce prices now," Mr Bowen said.
Joseph Kipkoech, also a farmer, said he is only allowed to buy five bags of fertiliser from the NCPB.
Mr Kipkoech said he is forced to buy the rest of the bags he needs elsewhere at more than Sh5,600. "I have received the news that top-dressing fertiliser will be available and I hope I will benefit," he said.
Jane Njeri, a small-scale farmer from Bahati, said the move will be helpful to farmers. She said it was time for farmers to benefit from subsidised fertiliser after suffering for a long time.
The county's move comes two months after affordable Microp fertiliser was introduced by Yara East Africa at Sh5,300 per 50kg.
The company teamed up with Corteva and the African Connect Digital Programme (ACPD) to educate farmers on the effectiveness of the product, which they said would increase yields.
The product was launched to aid farmers to double their production.
In April, the government injected Sh5.7 billion to subsidise fertiliser prices. Agriculture CS Peter Munya said a bag of DAP that was selling for Sh6,000 will now go for Sh2,800, Urea (from Sh6,500 to Sh2,700), CAN (from Sh3,900 to Sh1,950), NPK (from Sh4,900 to Sh3,000) and MOP will go from Sh3,800 to Sh2,500.