'I saw on TV my Sh220m assets being destroyed' – Businessman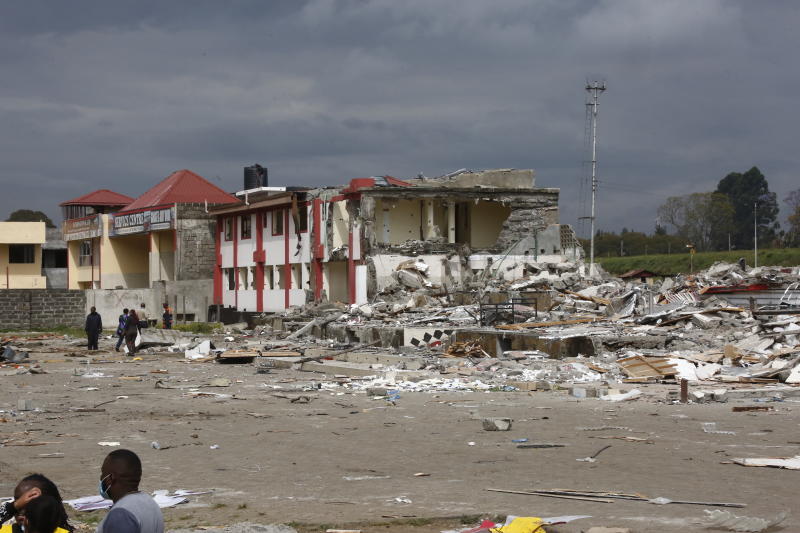 A businessman is seeking Sh220 million compensation from the Kenya Railways Corporation after the agency demolished his business premises in 2020.
Yusuf Isaack Suraw, the director of Nakel Investment Limited, narrated in the court the shock he suffered watching, on live television, his properties being reduced to nothing.
He was among investors whose businesses along Geoffrey Kamau Avenue were destroyed on October 10 and 11, that year.
The corporation argued it was reclaiming its land.
Suraw, who was testifying before Justice Mwangi Njoroge on Monday, said he was on a business trip in Mandera when he was informed that his premises were being demolished.
"I switched on the television and the demolition was being broadcast live. It was devastating," he told Justice Njoroge of the Environment and Land Court in Nakuru.
He said his property worth Sh220 million was destroyed, leaving him and his family destitute.
In his testimony, Suraw said Kenya Railways moved in without issuing a notice. He said the traders had received a notice three months earlier but it was not about the demolitions.
"The Kenya Railways, in the notice, directed owners with leases to pay the rent arrears and those with casual businesses and encroachers to vacate. We were not worried because we had cleared rent for the year," he said.
Suraw said he had paid the annual rent of Sh720,000 as per the lease agreement only for his premises to be demolished.
The trader who owned a petrol station, showrooms, restaurants, car wash, and car dealership businesses had entered into an agreement with the Kenya Railways on February 26, 2013, and leased an acre.
"I started construction in 2015," he told court.
In 2018, Suraw said, they extended the lease by 25 years, signed an agreement and paid the money in advance.
He is now seeking general damages, loss of rental income and profits and cost of the case.
The corporation demolished about 300 business premises on the land, rendering some 2,000 people jobless.
The hearing will continue on May 24 and 25.