Mbiyu Koinange's son barred from evicting six people from 4,000-acre land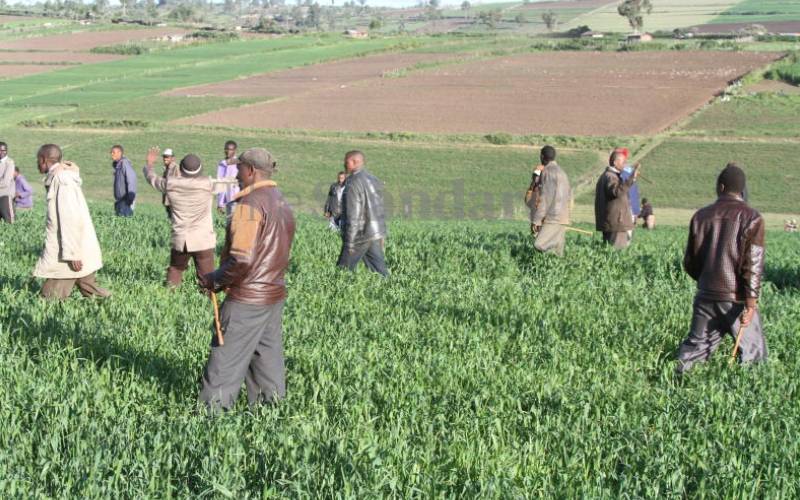 Former Minister of State, the late Mbiyu Koinange's eldest son, David Njunu, has lost a bid to evict six people from the expansive Muthera farm in Mau-Narok.
The Environment and Lands Court in Nakuru on Wednesday dismissed an application seeking the removal of Edward Kibe, Peter Mwangi, Philip Linoi, Samson Konene, Lemontoi ole Dikir and Denis Nkuruna from the 4,000-acre land.
Justice Mwangi Njoroge doubted the effectiveness of the orders sought by Njunu, saying the applicant would have nothing to protect after his request was granted.
"Their effectiveness would end the moment that the court reads the last word of the ruling, perchance they are granted," stated the judge.
The judge regretted the manner in which drafting of the application was done, saying the court had no choice but to strike it out as a preliminary matter.
Njunu had claimed that the six were in the process of taking over the estate of the deceased with full knowledge that they possess neither the proprietary nor legal right to the suit property.
In his application, Njunu said Kibe, Mwangi and Linoi were without the administrator's knowledge appointed as Estate Manager, Estate Secretary and Security Manager respectively.
He said Konene ole Dikir and Nkuruna intend to use the Maasai community to enter and forcefully occupy the suit property.
Njunu, who claims to be the legal administrator of the estate of Koinange, wanted the court to issue a temporary injunction restraining the six, together with persons claiming under them from erecting into, remaining onto, leaving out, cultivating, or selling any portions of the land.
He wanted the orders of the court, if issued, to be implemented with the assistance of the Nakuru County Police Commander.
The six, in their grounds of opposition, said the orders sought by Njunu had been overtaken by events, adding that similar injunctive orders already exist in their favor and 39 others.
On his part, Nkuruna said he was not a trespasser as he was only acting under instructions from administrators of the Estate to provide security and ensure the suit property is not interfered with.