Elders perform rituals to end insecurity in the Rift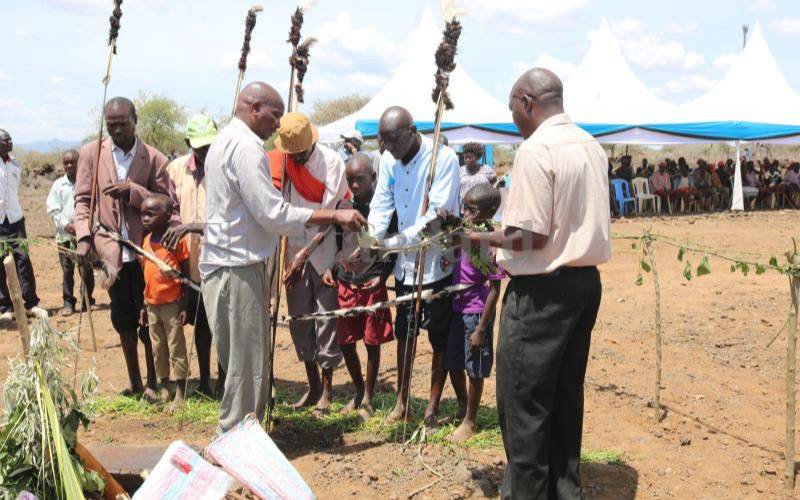 Elders from four communities in the North Rift have come together to find a lasting solution to insecurity in the region.
The elders, on Sunday, performed rituals at Katuwit area in Tiaty as a way of creating peace and ending inter-community attacks locally.
During the ceremony, elders from the Talai, Tugen, Marakwet, Pokot, and Ilchamus said the bad blood between the communities that has existed for decades must come to an end.
Joel Rono, the chairperson of Talai Kapturgat Council of Elders, said insecurity had been the main challenge in the border of Baringo and Elgeyo Marakwet, which prompted the elders to come together and help restore unity.
The rituals were performed to curse anyone planning to engage in banditry.
Colonel (Rtd) Moses Kwonyike said they started performing the rituals on Saturday evening by slaughtering a dotted female goat and a black ram.
"In the morning we slaughtered a black spotless castrated bull. On such occasions, after slaughtering, we have experts who examine, read the intestines and interpret to tell us what will happen. In this case they told us that the meeting would be peaceful," Kwonyike said.
The elders then proceeded to a two-roomed mud walled hut with a horn containing milk fats from a brown cow. They used the horn to sprinkle blood.
According to Kwonyike, the room contained belts, arrows, spears and bows.
While performing the rituals, the members of the community exchanged weapons.
"Weapons were exchanged among communities who have been having problems. As a sign of peace, they have to retain the arms permanently, as they received them, till the end of the world," Kwonyike said.
Then there was jumping over milk, and Rono would sprinkle the feet of the participants who were widows and widowers whose spouses were killed due to the cattle rustling from the four communities.
Two children - a boy and a girl aged between five and eight, and perceived as the innocent and upcoming generation, were also engaged.
The children were perceived to be the innocent part of the society and the future of the communities, therefore it was important for them to witness the ceremony.
Peter Chemaswet, a pastor, said that after the recent attack in Marakwet that cost the lives of a family, including children, the committee saw the need to have rituals performed to stop such killings and attacks.
The deputy director of peace-building and reconciliation at the National Cohesion and Integration Commission Liban Guyo said the commission recognised that there were multiple approaches in building peace.
"We tried dialogue, which has worked between Turkana and Pokots. Now this is a new approach we have witnessed today. It is peace building that is rooted in culture, and the tradition of the people. It is likely to bring enduring peace and social cohesion, which is a prerequisite for development," said Mr Guyo.