Shock after Molo man's three children die in house fire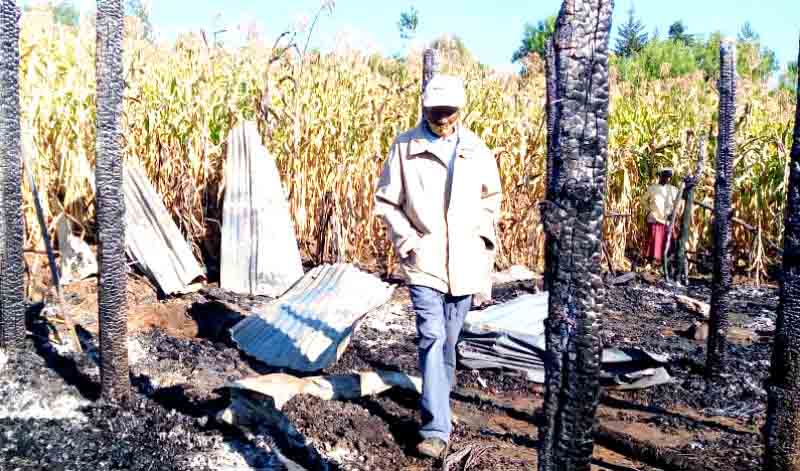 When George Ongeri left his house on Tuesday evening, he did not know that it was the last time he would see his three children alive.
Ongeri was going to fetch milk from a neighbour's house in Turi village, Molo.
"I left them sleeping. At around 7.30pm, I rushed home after I received a call from neighbours that my house was on fire," said Ongeri.
From a distance, he saw fire had engulfed his house. His only prayer was that someone had rescued his children from the burning house.
He said upon arrival, the place he called home for over a decade had been reduced to ashes. "I could not trace my children among those who were at the scene. It then dawned on me that Mercy Nyaboke, six, Lydia Moraa, five, and Anthony Ongeri, four, did not survive," said Ongeri.
Ongeri said he parted ways with his wife three years ago and was single-handedly raising his children.
"It is painful that I have lost all my children and property. My neighbours tried their best, but nothing was salvaged," he said.
Tegat Senior Chief Njoroge Muturi said the children were all burnt beyond recognition.
"It is saddening that we have lost three children in a fire incident. They were alone in the house at the time of the incident," said Muturi.
The cause of the fire was not immediately established.
Chief Muturi said the children might have been rescued but the location of the house was a setback.
"The house was located in the middle of the farm and was surrounded by tall crops. The neighbours could not see the fire until it got out of control," said Muturi.
The residents watched in shock as the police moved to the scene to retrieve the remains of the three children whose bodies had been extensively burnt.
"The bodies were moved to Elbugon Sub-county Hospital mortuary. We appeal on well-wishers to come to the rescue of this family, and for the community to offer him moral support," said Muturi.