Yare residents protest attempt to evict them from land given by State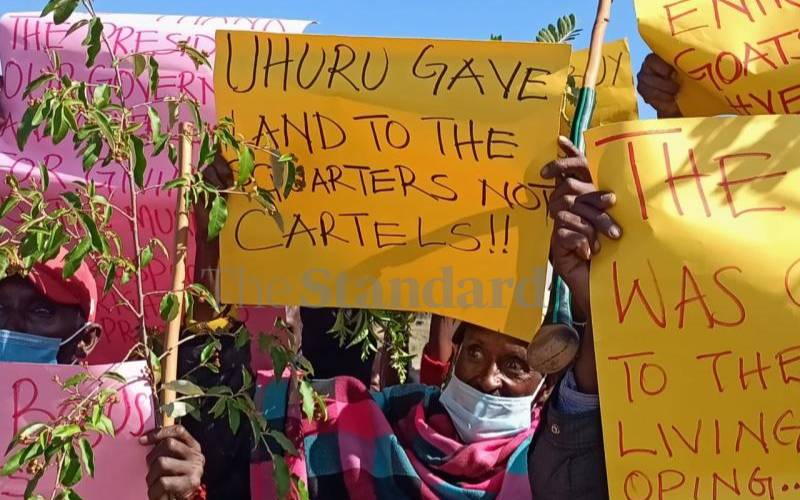 Residents of Lkuroto Yare are protesting an alleged attempt by a land speculator to evict them from their land in Muramur.
President Uhuru Kenyatta had directed that the land be given to the community for the expansion of Maralal Town.
The more than 10,000 acres of land belonged to the Kenya Defense Forces (KDF). Families occupying part of the land for the past 30 years were to be considered for allocation.
Most of the settlers, who fled from their homes in Samburu North due to insecurity, claimed they were told to buy the land or go back to their homes.
"We were told to go back where we came from yet the military was given alternative land. We fled insecurity and the problem is still there," said Lorosio Lelua, a resident.
Jackson Lenalapei, another resident, added: "This land fell into the wrong hands."
The protestors, including schoolchildren, vowed not to leave their homes. "They had documents which they claimed is the group ranch register, and we are not members. This is a settlement scheme given by the president," said Jonathan Lenaitorono.
Local leaders were asked to refrain from taking sides and instead work with the government to settle the dispute.
"We are asking the government to solve this problem. We all want justice, and the Constitution is very clear that if you live in a place for more than 12 years un-notified, that place becomes yours legally," said Lenaitorono.
None of the people claiming ownership were willing to comment.
Efforts to get comments from the local National Land Commission officers were fruitless.