Ex-military recruit now digs latrines for a living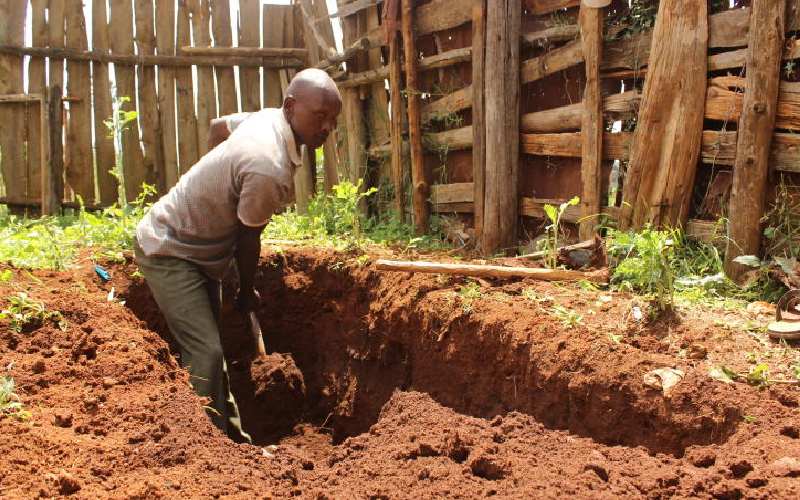 Kelvin Sakong was excited when he was enlisted to the National Youth Service in 2017, and over the moon when he was recruited to the military in 2018.
The 27-year-old Sakong, who was born in Maboiywa village in Mt Elgon, Bungoma County, was the hope not just of his mother, but the entire village.
Sakong, the second born in a family of seven, was privileged to secure a government job. But five months into the rigorous military training at the Recruits Training School (RTS) in Kamagut near Eldoret town, Sakong was discharged on medical grounds over an eyesight problem.
Three years after his exit from a career in the military, Sakong is now a well-known latrine digger in Hawaii estate in Eldoret town.
According to a certificate of service from the Kenya Defence Forces, Sakong was recruited on March 25, 2018 and was discharged on August 30, the same year.
"One morning, about a week into our daily physical training sessions at RTS, I felt dizzy and stumbled. I found myself in a hospital in Eldoret. I was told I'm epileptic," Sakong recalls.
He was admitted in hospital for four days before resuming training.
"The dizziness persisted, and I was referred to Defence Forces Memorial Hospital in Nairobi. When I got there, I was placed in a mental unit as they ran tests. They said I was suffering from a mental illness. I had never suffered any mental challenges in my life," the ex-recruit narrates.
Sakong was later discharged and continued with his training until one Saturday morning in his fifth month at the forces when he got a termination notice.
According to him, he was never told the exact illness he was suffering from, but he accepted his fate. He is described as hard-working in the certificate of service signed by a military commander.
"He (Sakong) is hardworking, and he is recommended for employment in any organisation which may require his services," the certificate of service reads in part.
After his discharge, he was offered transport to Mt Elgon, but he opted to be dropped in Eldoret town because he could not face his mother, who he says has high blood pressure.
"It would have been devastating for my mother. I think she would have collapsed," he says.
"While at the NYS in Gilgil, I never faced any health challenges. I was among the best seven recruits. I was a senior service 1. I can't explain what happened, but I have accepted my fate. I am now using the building and construction skills I gained at NYS to dig pit latrines for residents to get some money for upkeep," Sakong says.
The father of four says he almost sunk into depression after the discharge, staying for a whole month without food and only surviving on water as he asked himself questions.
"I even thought I had HIV and my instructors at KDF did not want to break the news to me. I later discovered I was in good health and that is why I engage in laborious activities. I can dig a 15-foot pit latrine in a day," he says.
A letter from the Ministry of Defence to the Director of Pensions at the National Treasury confirms that Sakong was discharged on medical grounds, which were not disclosed.
The letter was dated January 9, 2019.