Two arrested with 180kg of bushmeat in Kajiado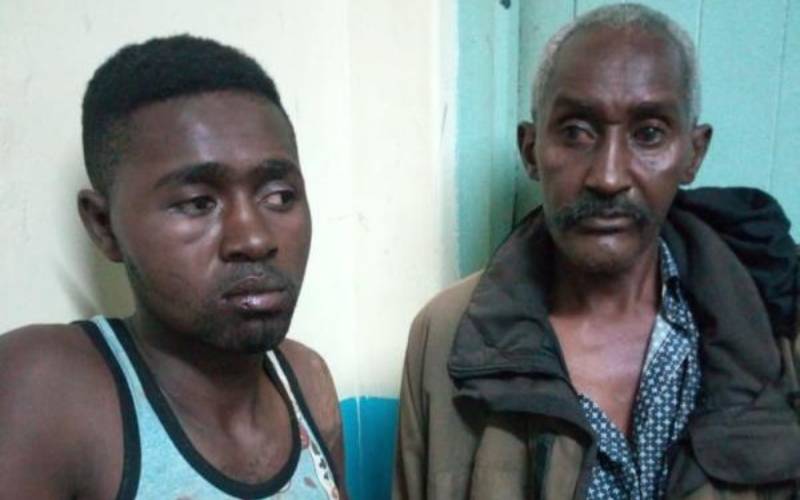 Two men have been arrested with game meat in Kajiado County.
David Mwololo Musyimi alias Kawaya, 57, and Mwendo Mumba, 26, were arrested on Wednesday at Ngama area in Mashuuru Sub-county.
A team of investigators acting on a tip-off, laid a trap in the bush and arrested the two while in possession of zebra and dik-dik meat weighing approximately 180kgs.
The third suspect, a boda boda rider escaped.
According to the police, the suspects are believed to be notorious and deadly poachers who have been involved in the business for more than 10 years. Police also recovered two knives and a machete from the suspects.
''We are escorting them to Kajiado Police Station for booking, we will charge them tomorrow with the offence of dealing in bushmeat,'' said area Directorate of Criminal Infestations head Issack Meme.
The officer appealed to the the public to report poaching cases to the police.
''I'm appealing to residents to report any incident of poaching, we should avoid feeding people with bush meat as it's a health hazard,'' said the county DCI boss.
Being a home to two national parks and several private wildlife sanctuaries, the poaching incidents have increased turning the county into a poacher's haven.
The county's location is said to work to the advantage of poachers, given that it borders Nairobi and also connects Tanzania through the Namanga border.
It's believed that one can easily transport illegal items from the neighbouring country to the City without being noticed by the authorities since there are no police roadblocks.