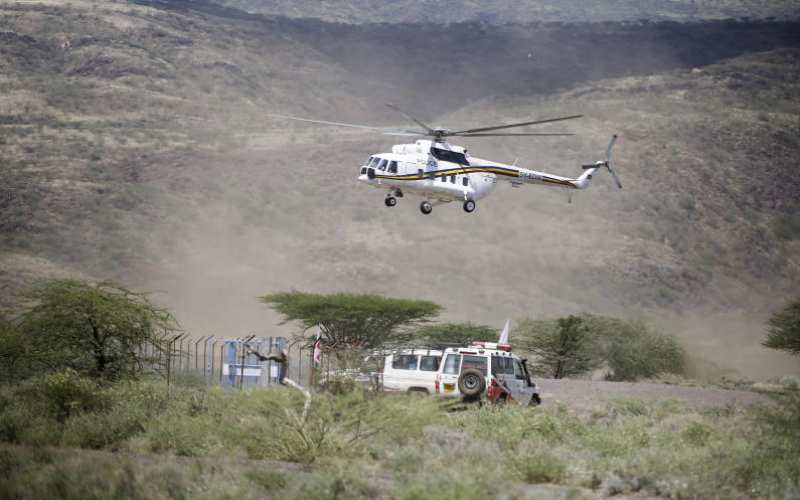 A Member of County Assembly was yesterday grilled by detectives over alleged involvement in the killing of two police officers in Kapedo at the border of Baringo and Turkana counties.
Silale MCA Nelson Lotela, accompanied by lawyer Gordon Ogolla, presented himself at the Rift Valley regional Directorate of Criminal Investigations (DCI) offices where he was grilled for hours.
Security agencies accuse Lotela of being involved in procurement of illegal firearms and ammunition.
According to Ogolla, his client presented himself to the DCI following reports that he was linked to insecurity in the region.
"My client presented himself to the officers following allegations in the media that he was being accused of insecurity," he said.
Read More
Earlier on Friday, Rift Valley Regional Commissioner George Natembeya told journalists at a press conference that the MCA was among local leaders who allegedly helped cattle rustlers procure illegal firearms and fund violence in the area.
Natembeya further alleged that Lotela took part in a meeting(s) to plot recent attacks and murder of General Service Unit (GSU) Operation Commander Emadau Tebakol on January 17 and chief inspector of police in charge of Rapid Deployment Unit (RDU) a day later.
However, Ogolla said his client was not questioned about the illegal trade in firearms and ammunition, but only asked about his relations with the local community, topography of the area and issues surrounding banditry attacks in the region.
"Detectives did not question my client about possession and trading of illegal guns, but they asked him about banditry," said the lawyer.
Lotela was asked to return to the DCI offices on Thursday for further interrogation.
Natembeya said although the MCA was not arrested, he was still under investigation.
"The MCA is still under investigation and will have to appear before the detectives again for further grilling," said the administrator when asked if Lotela was a suspect.