Sex worker found murdered in a Salgaa lodging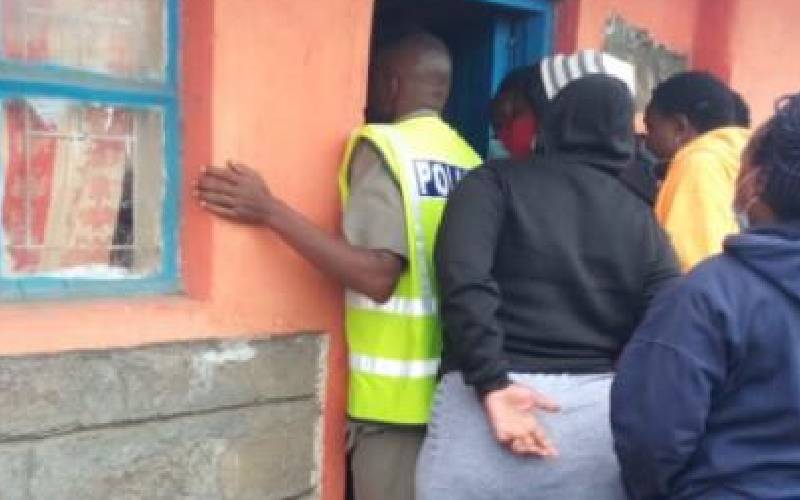 Police officers have launched investigations into the murder of a sex worker who was found dead in lodging at Salgaa trading centre in Nakuru county.
The deceased, 25, is reported to have booked a room in one of the lodgings where she spent Thursday night with her client.
But inside the room, it is suspected that they disagreed with the client, who is yet to be identified, leading to a fight that led to her death.
Rongai Sub County police commander Shadrack Maroa said the incident was reported by the caretaker of the lodging, who had gone to conduct normal inspections of the rooms, on Friday morning.
Body found wrapped in a blanket
The caretaker found the blood-soaked body wrapped in blankets on the bed. The body also had a deep open cut on the forehead, with other multiple injuries.
"She had booked the room to spend with a man she met on the streets of Salgaa," Maroa said.
According to the police, the woman might have been tortured by the assailant before being killed. Police also recovered a blood-stained broken bottle inside the room, believed to be the murder weapon.
Maroa said police are working with detectives from the Directorate of Criminal Investigations (DCI) to trace the assailant.
"The caretaker of the lodging has provided us with personal details and mobile phone number of the suspect, details that will help us flash him out of his hideout," said the police officer.
The body was taken to Nakuru county morgue.
Sex workers worried
The murder has been condemned by sex workers in Nakuru, under an umbrella advocacy outfit dubbed Smart Ladies, who have in the past complained of brutal attacks and killings.
Chairperson Daisy Achieng asked the police to speed up investigations to arrest the killer.
"It is sad to have someone killed in cold blood, by someone who poses like a client. We are asking the security team to arrest and charge the suspect," said Achieng.
Achieng said anybody with a complaint against sex workers should report to the police, and have action taken, instead of opting for murder.
"About 1,320 cases of sexual assault have been reported this year, some of which are being handled at the courts, with some under investigations," she said.
However, she said residents in Salgaa have not been kind to sex workers, and more often, they harass and assault them.
In 2019, four sex workers were injured by a group of 10 members of nyumba kumi initiative while at their workstations. Other areas where a number of women have been harmed include Pipeline, outskirts of Nakuru town and Kikopey.